Hot animal glue powder
Modified special adhesive on animal glutin basis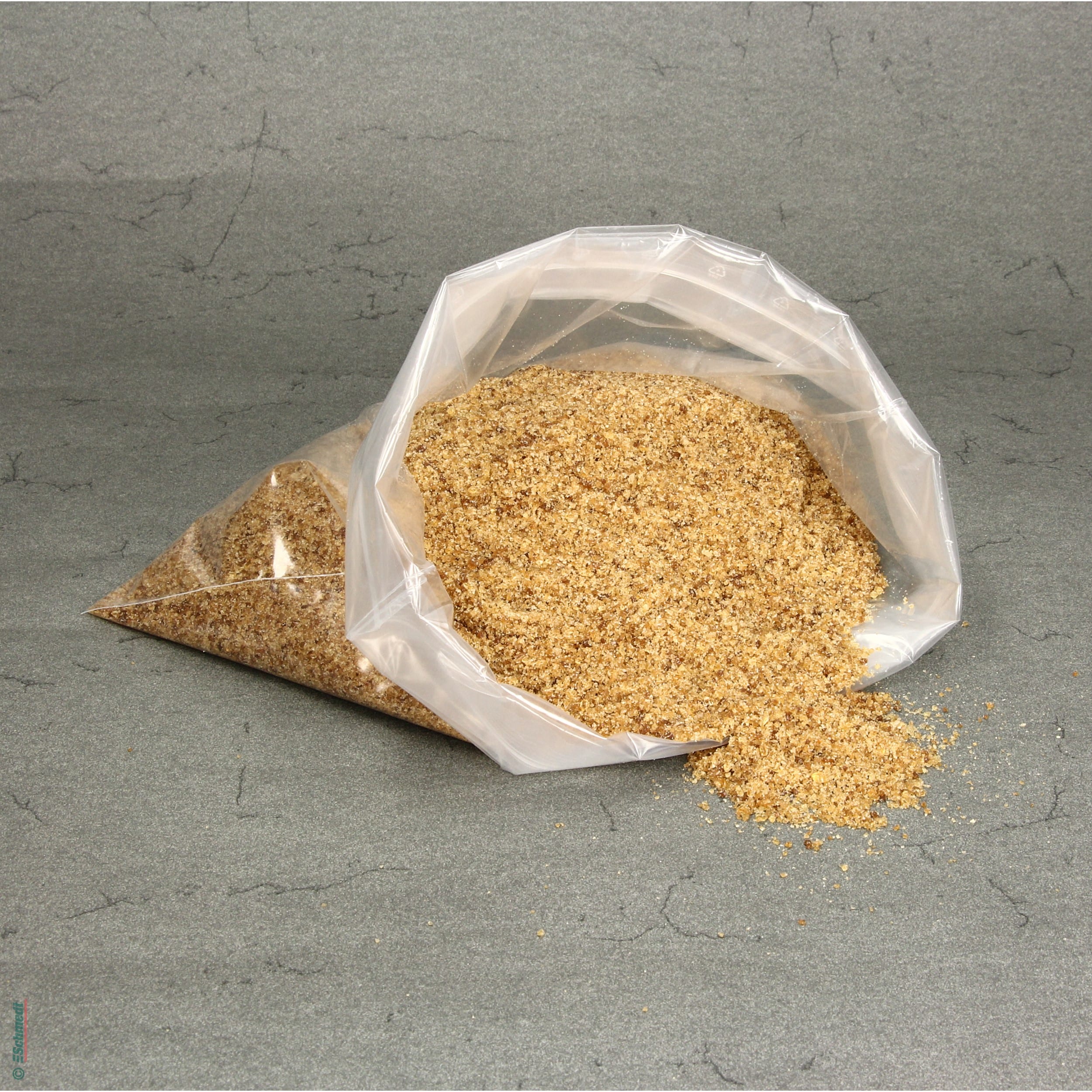 In stock, deliverable at short notice
Gross total incl.
19% VAT:
Product information "Hot animal glue powder"
Heißleim in Pulverform
Farbe: braun
pH-Wert: 5,5 - 6,5
Viskosität 60°C: 100 mPas 2/20 Brookfield RVT
Arbeitstemperatur: 58 - 61°C
Offene Zeit: mittel - kurz mit starkem Tack
Anwendung: für neutrale, verzugsfreie Verklebung unbehandelter Materialien in der Handbuchbinderei und Restaurierung
Gebindegröße: Sack à 25 kg
Abgabe erfolgt kiloweise
Über Knochenleim (Perlleim)
Allgemeines:
Knochenleim ist ein seit 4000 Jahren bekanntes reines Naturprodukt. Knochen enthalten leimgebende Stoffe, sog. Ossein (Knochenkollagen), aus denen durch chemische und physikalische Behandlungsverfahren das Glutin, eine hochmolekulare Eiweißsubstanz, herausgelöst wird. Nach Durchlaufen von verschiedenen Reinigungs- und Trockungsprozessen entsteht hieraus Knochenleim als Granulat oder Pulver.
Knochenleim ist bei trockener und kühler Lagerung ohne Qualitätseinbuße fast unbegrenzt haltbar. Er ist uneingeschränkt umweltfreundlich und wird in biologischen Kläranlagen vollständig abgebaut.
Eigenschaften von Knochenleim:
Knochenleim ist in kaltem Wasser stark quellbar, aber nicht löslich. In gequollenem Zustand lässt er sich erst bei Temperaturen über 30°C schmelzen und ergibt dann die gebrauchsfertige Lösung.
Die warme Leimlösung erstarrt bei Abkühlung selbst in geringer Konzentration zu einer Gallerte. Dieser Übergang von dem Sol- in den Gelzustand ermöglicht eine sehr schnelle Haftung ohne eigentlichen Trockenvorgang. Hierbei wird eine meist ausreichende Anfangsfestigkeit erreicht. Die wesentlich höhere Endfestigkeit tritt nach Verflüchtigung des Wassers ein.
Knochenleim ist geeignet für die Verklebung und das Imprägnieren von Stoffen, die eine mechanische Verankerung des Leims und eine Verflüchtigung des Wassers zulassen. Sie ist mit Wasser wieder anlösbar, aber beständig gegen die meisten organischen Lösungsmittel.
Glutin wird bei längerem Erhitzen über 65°C langsam zu Glutose abgebaut, die keine Klebeeigenschaften besitzt. Unter diesen Bedingungen kommt es zu einer Qualitätseinbuße.
Qualitäten:
Hauptqualitätsmerkmale sind Viskosität und Gelierfähigkeit, gemessen an einer 12,5%igen wässrigen Lösung bei 60°C. Die üblicherweise eingesetzten Knochenleime liegen der Viskosität zwischen 3,0 - 6,0 mPas* (1 mPas = 10 mP). Ihre Gallertfestigkeit liegt zwischen 90 - 200 Bloom-Grams (internationale Messeinheiten).
Praktische Hinweise:
Zur Herstellung eines typischen Ansatzes rührt man etwa 25 Gewichtsteile Knochenleim in 75 Gewichtsteile kaltes Wasser (höchstens Raumtemperatur) ein. Nach einer Quellzeit von zwei Stunden für das Granulat oder einer Stunde für das Pulver wird der Leim bei Temperaturen zwischen 50°C und 60°C im Wasserbad unter Rühren aufgeschmolzen und gelöst. Die Verarbeitung der Flotte erfolgt bei Temperaturen zwischen 50°C und 65°C.
Haltbarkeit:
Bei kühler und trockener Lagerung sind Knochenleime unbegrenzt haltbar.
Anwendungsgebiete:
Klebstoff: für Papier, Pappe, Holz, Leder usw.
Imprägniermittel: für Papier, Pappe, Gewebe usw.
Bindemittel: für die Herstellung von Zündholzköpfen, Abrasivstoffe und Kork
Beschichtung als Komponente für modifizierte Klebstoffe: für anfeuchtbare Klebebänder und Trägergewebe wie sie unter der Bezeichnung PLAKAL für die papierverarbeitende Industrie von uns hergestellt werden
Sonstiges: Flockungsmittel für wässerige Systeme, Herstellung von Bürsten und Pinseln, Herstellung von Folien, Ballistische Geschossfalle, Zusatz von galvanischen Bädern usw.
Properties of "Hot animal glue powder"
Colour
Colour:

brown

Adhesive properties
Adhesion:

strong

Open time:

medium - short

Viscosity (in mPas):

ca. 100 (60° C)

Technical details
Type:

animal glue

Usage:

Restoring / Mending

Working temperature (in ° C):

58 - 61

Material
pH value:

5,5 - 6,5

Other properties
Category:

Conservation glue

Minimum order quantity:

as of 1 kg

Sales unit:

Bag of 25 kgs

Usage:

Restoring / Mending
Authenticity of customer reviews
Each review is checked for authenticity before it is published, ensuring that reviews only come from consumers who have actually purchased/used the reviewed products. Since Feb 01 2022, we have been using the features of our store system to collect product reviews. Each rating is manually checked by us before publication and only released after successful verification that the customer has actually purchased the product (comparison of the rating with the order history in our merchandise management system). Until Jan 31 2022, we collected product ratings via the external provider Trusted Shops. Here, individualized links were transmitted to the respective consumer after completion of an online order, which led to an online rating form and ensured that access to the rating function was only granted to consumers who actually purchased the product.
Below you can see questions that other customers have asked about this product. Do you have a question of your own? Then feel free to ask us using the button below. You decide whether your question may be published.