Mull I - single-threaded | slit rolls
Cotton cloth with 1 warp thread
Width (in mm): 140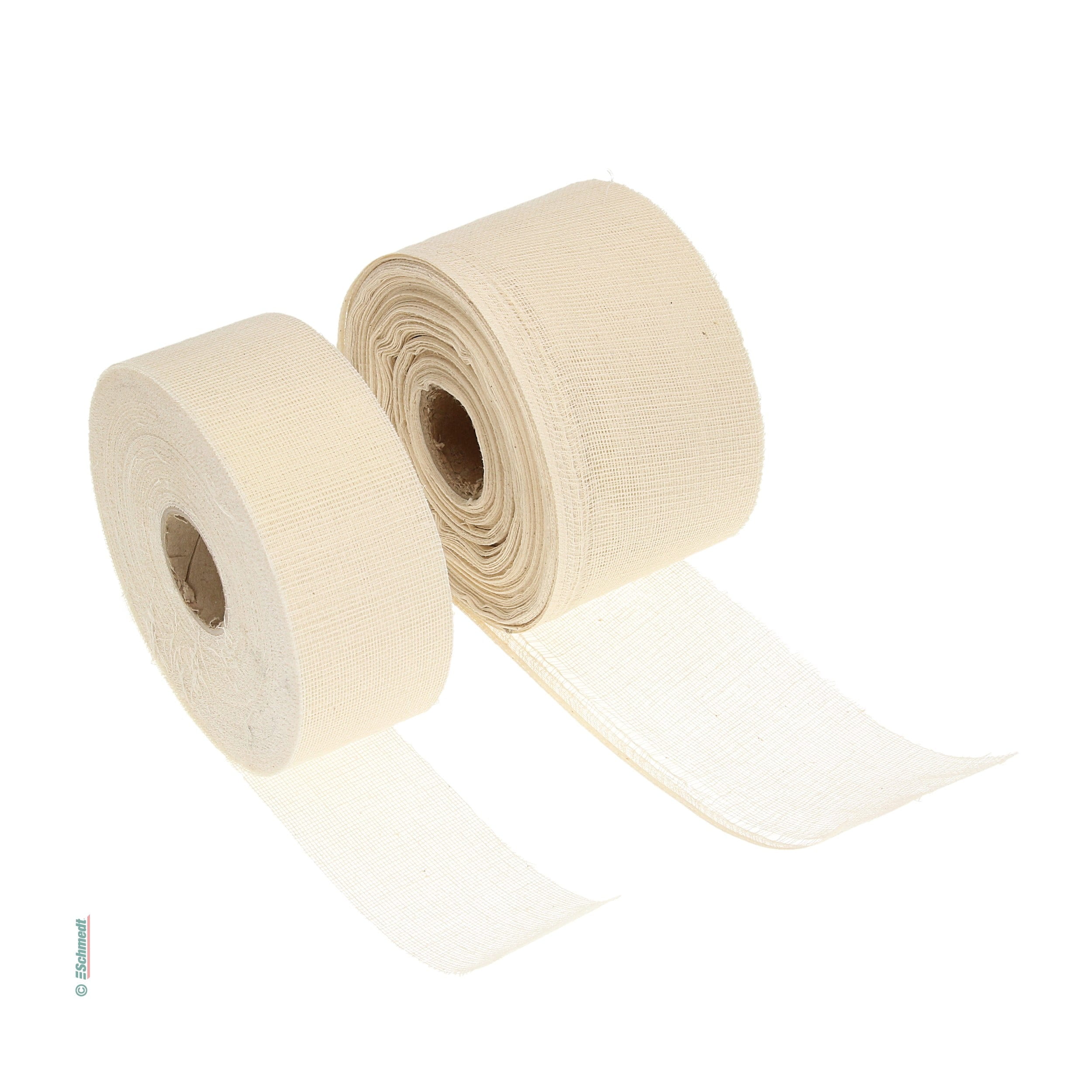 In stock, deliverable at short notice
Gross total incl.
19% VAT:
Product information "Mull I - single-threaded | slit rolls"
Wide-meshed, impregnated cotton cloth with 1 warp thread to reinforce the back of book blocks after fanbinding. Slit into narrow rolls of different widths for faster processing.
Format : on rolls
Roll Length (in m) : 50
Other roll widths by request.
Properties of "Mull I - single-threaded | slit rolls"
Dimensions
Format:

on rolls

Roll length (in m):

50

Colour
Colour:

natural

Surface & Texture
Surface:

impregnated

Texture:

wide-meshed

Technical details
Elongation at break (in %):

2,5 (Warp)

, 3 (Weft)

Tensile strengh (in N/50 mm):

130 (Warp)

, 160 (Weft)

Usage:

Backlining/Reinforcing

Warp threads (in cm²):

10 (single-threaded)

Weft threads (in cm²):

7

Material
Grammage:

39 gsm

Material:

100 % cotton

Paper backing:

no

Finished products
Finished products:

book blocks for hardcover

Other properties
Category:

Mull & Backliner

Minimum order quantity:

as of 1 roll

Usage:

Backlining/Reinforcing
---
Tut was sie soll, gut geeignet für Kaltleimbindungen. Gutes Preis-/Leistungsverhältnis.
Nach so etwas habe ich schon lange gesucht
Wie erwartet. Gute Qualität.
gute Qualität, gute Verwendung der Gaze. Alle bestellten Artikel kamen in einer Lieferung. das ist wo anders undenkbar
Below you can see questions that other customers have asked about this product. Do you have a question of your own? Then feel free to ask us using the button below. You decide whether your question may be published.
Order sample card for Mull I - single-threaded | slit rolls
We know how important it is to see and feel materials live - that's why we offer samples for most of our materials already pre-made on sample cards. On these sample cards you will find all textures and shades for the respective material. Just click on the banner below to go directly to the respective sample card.