Schärffix® leather paring device, skiving tool
to be fixed to the worktop
Colour: green - RAL 6026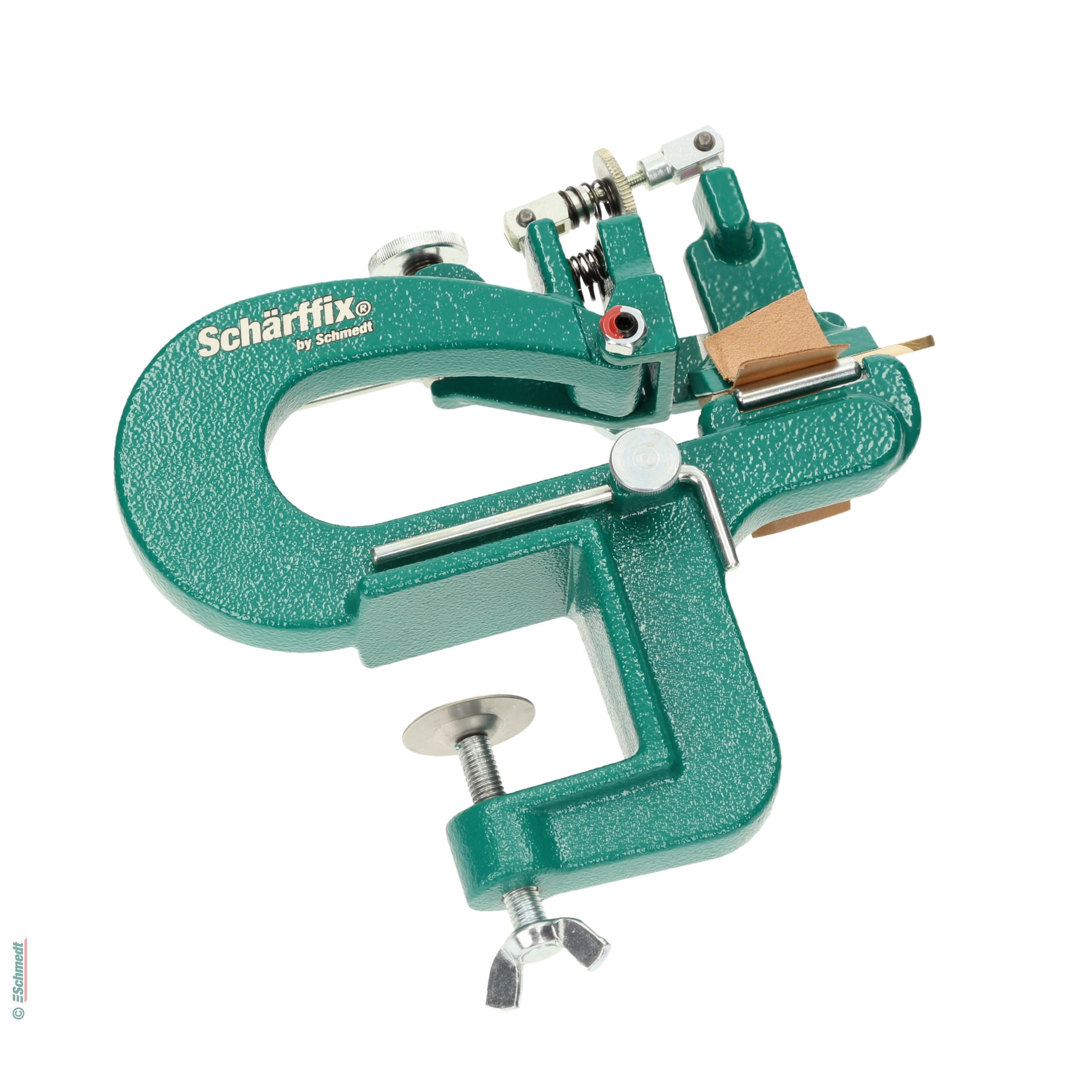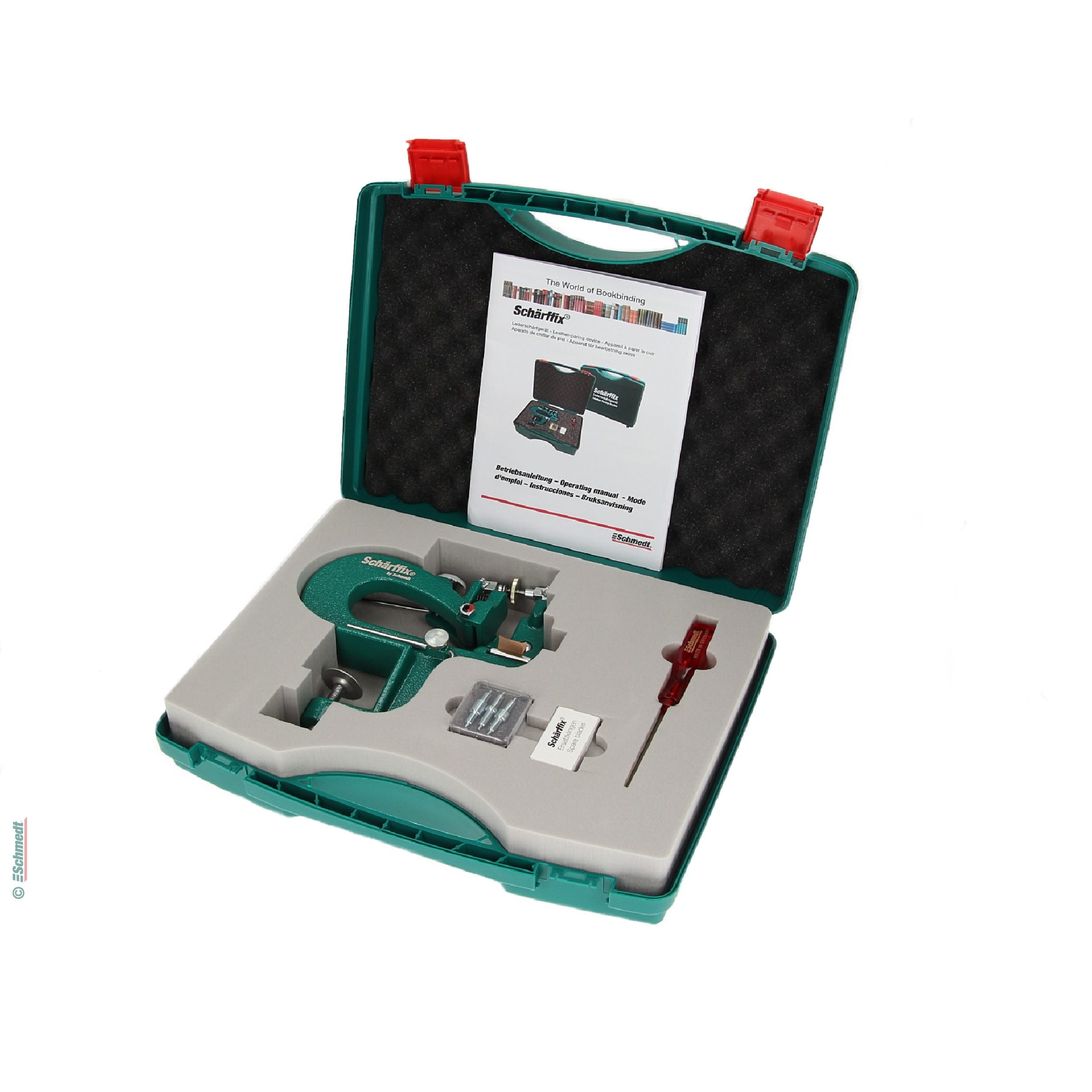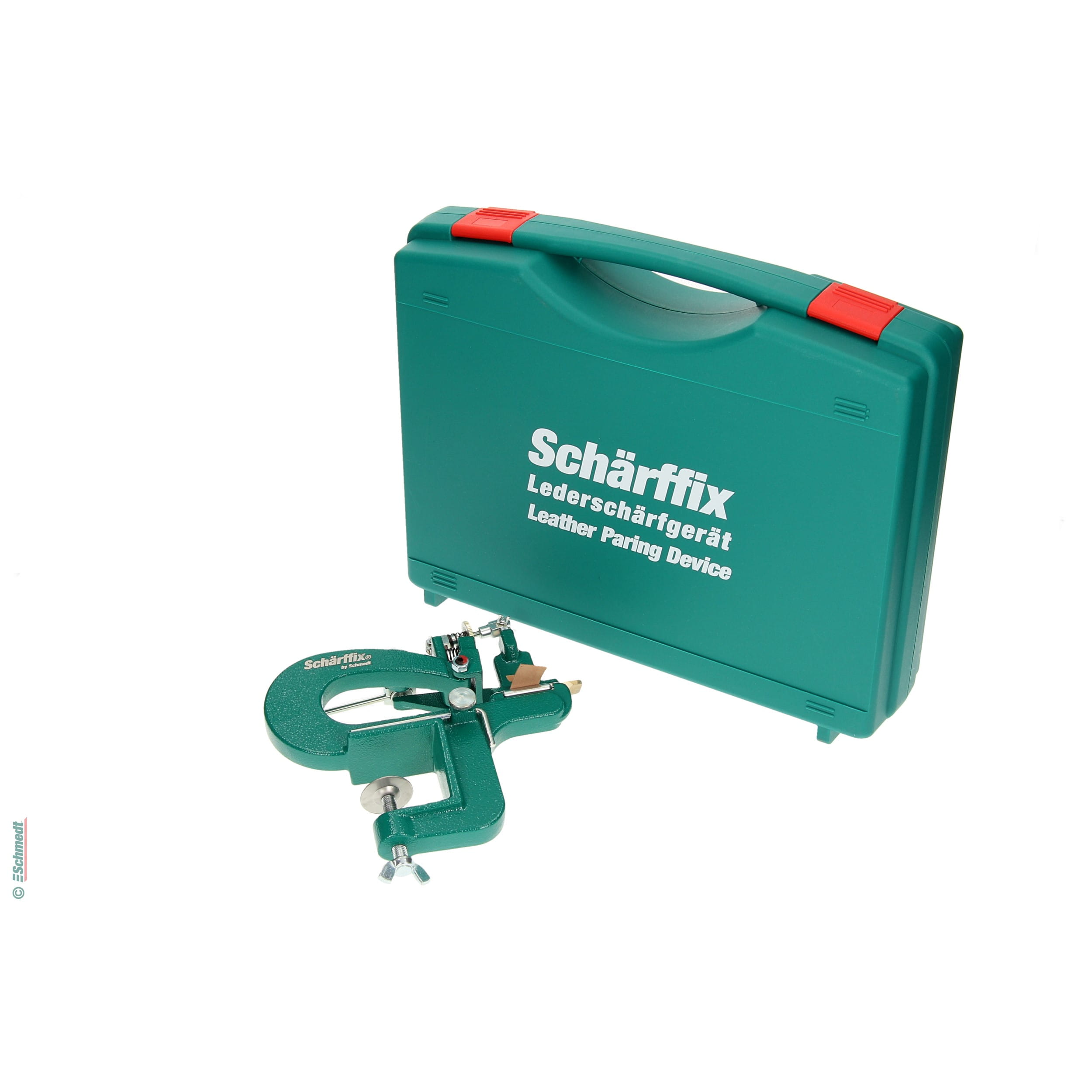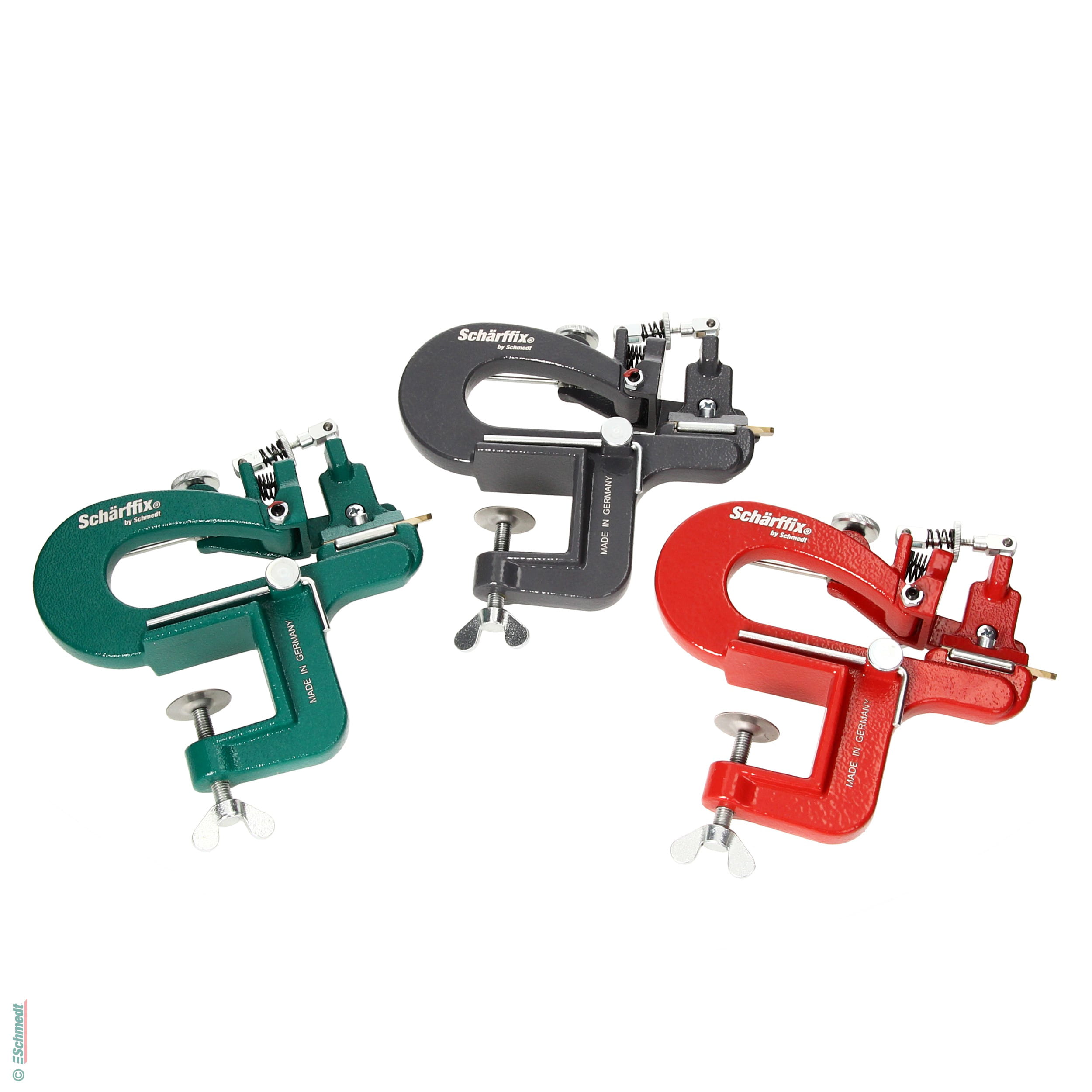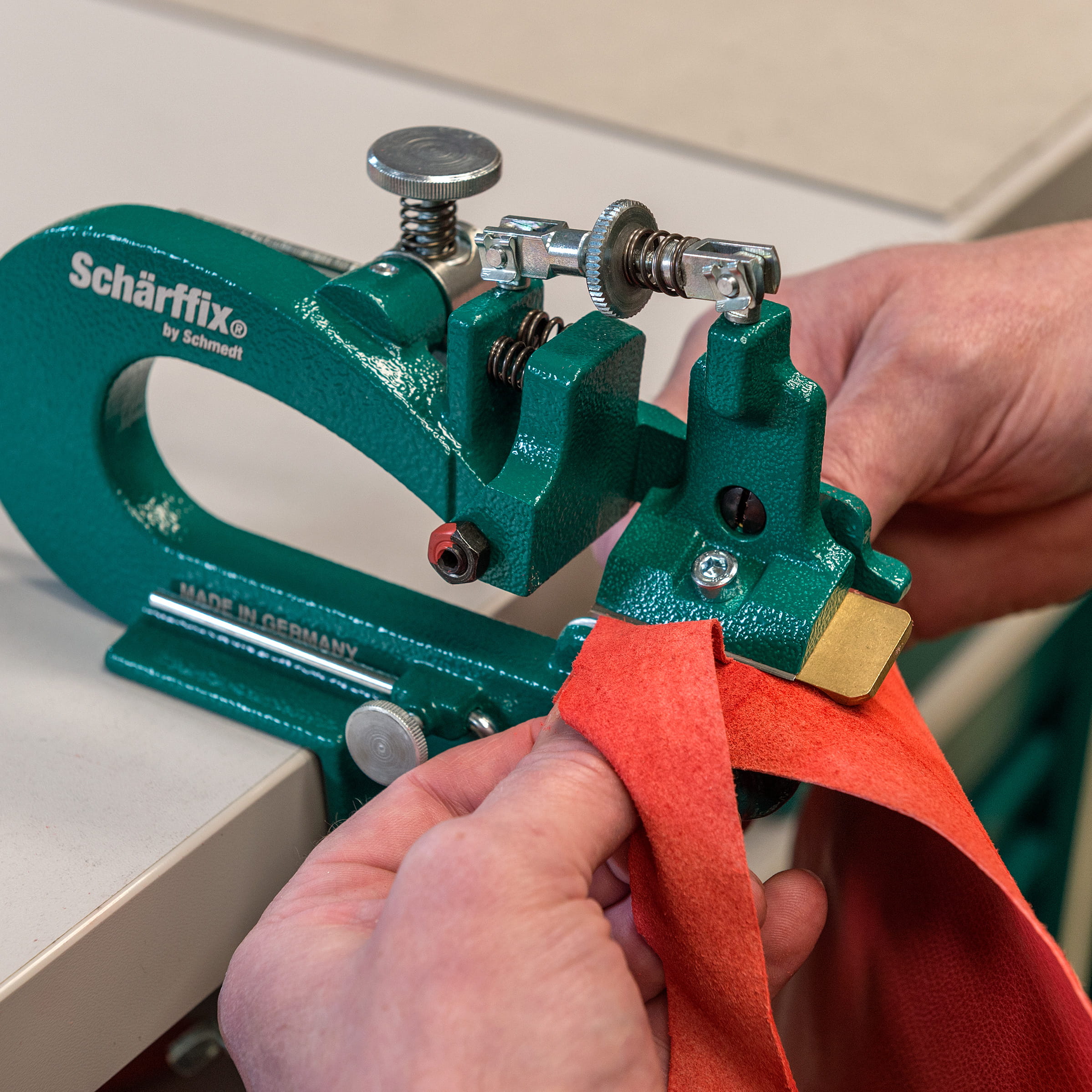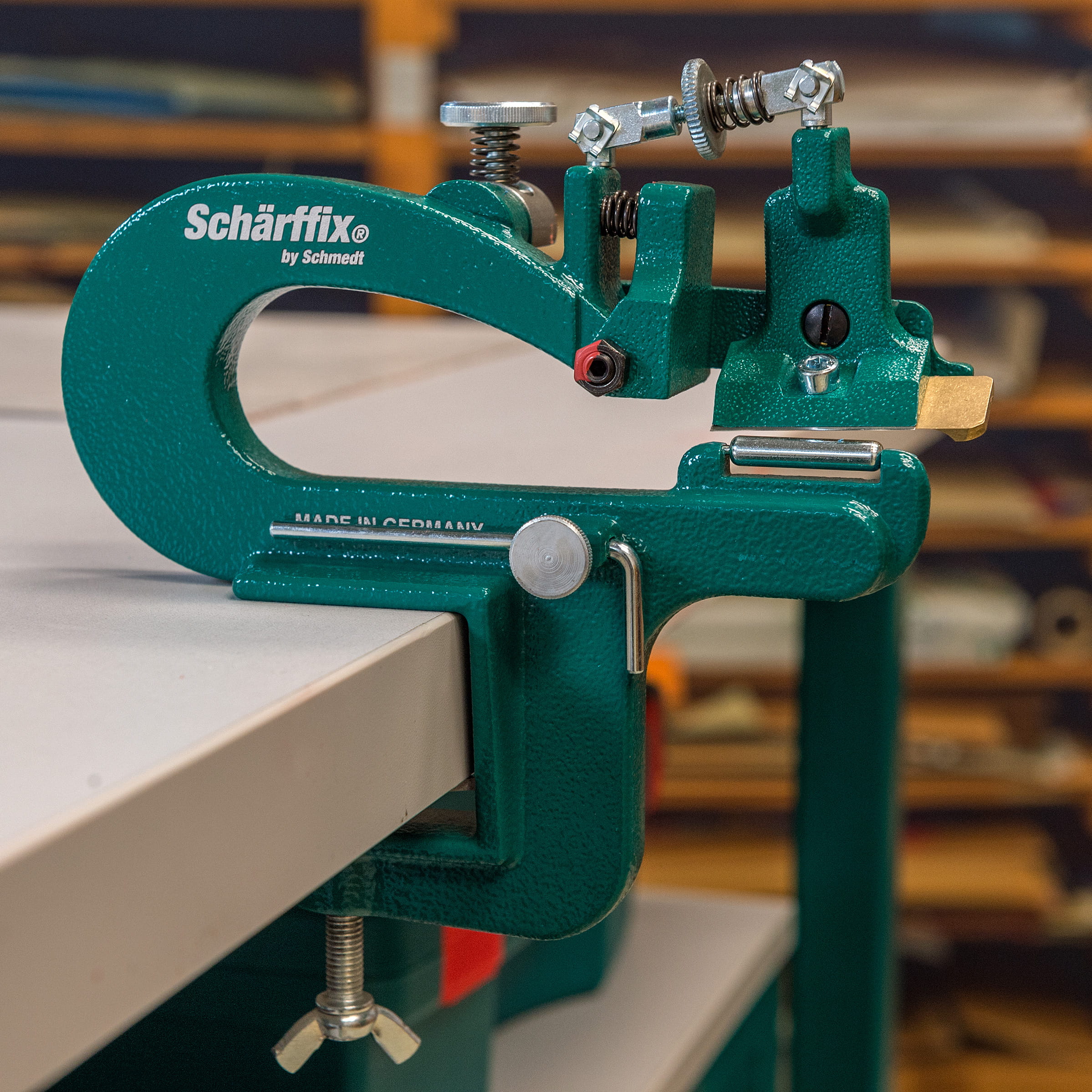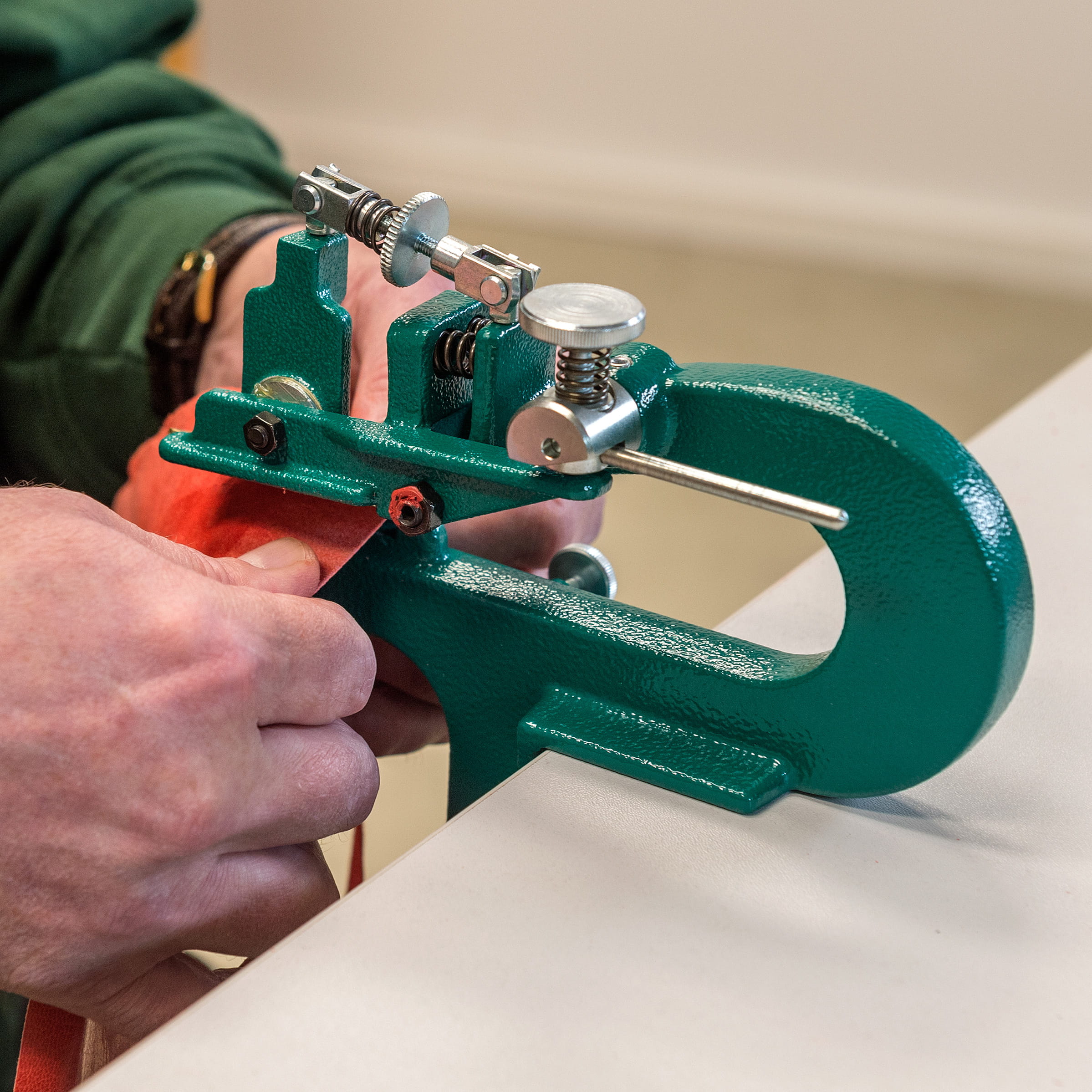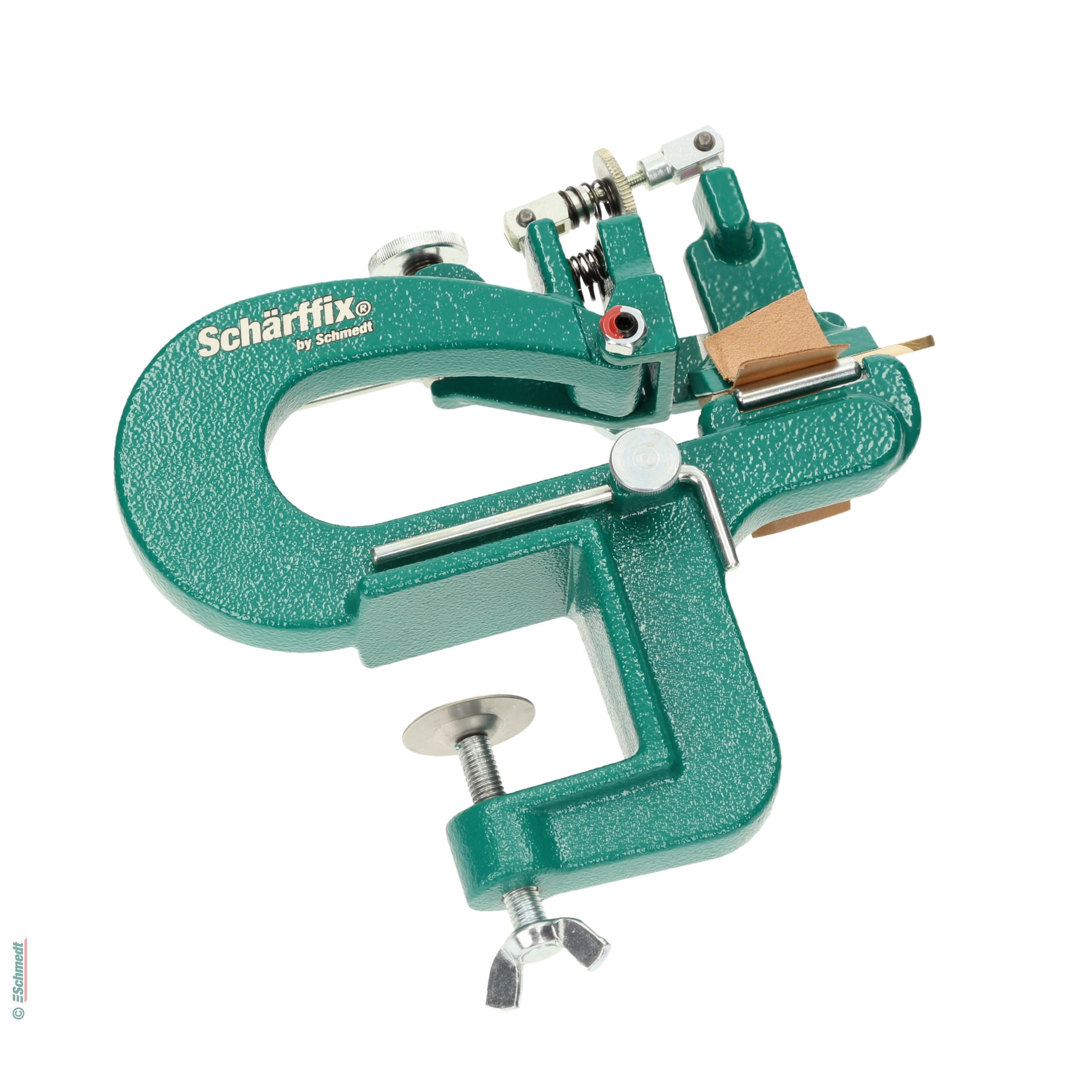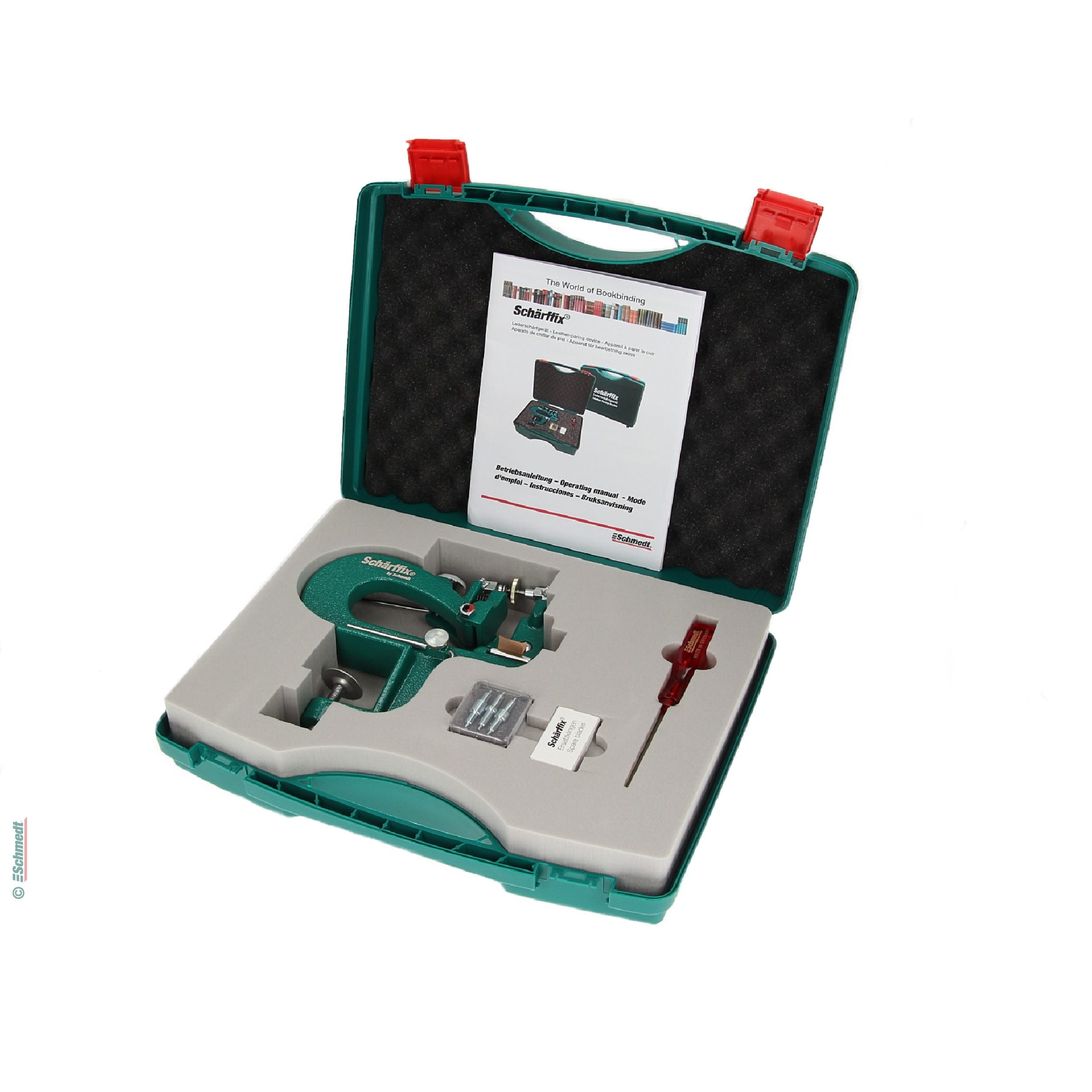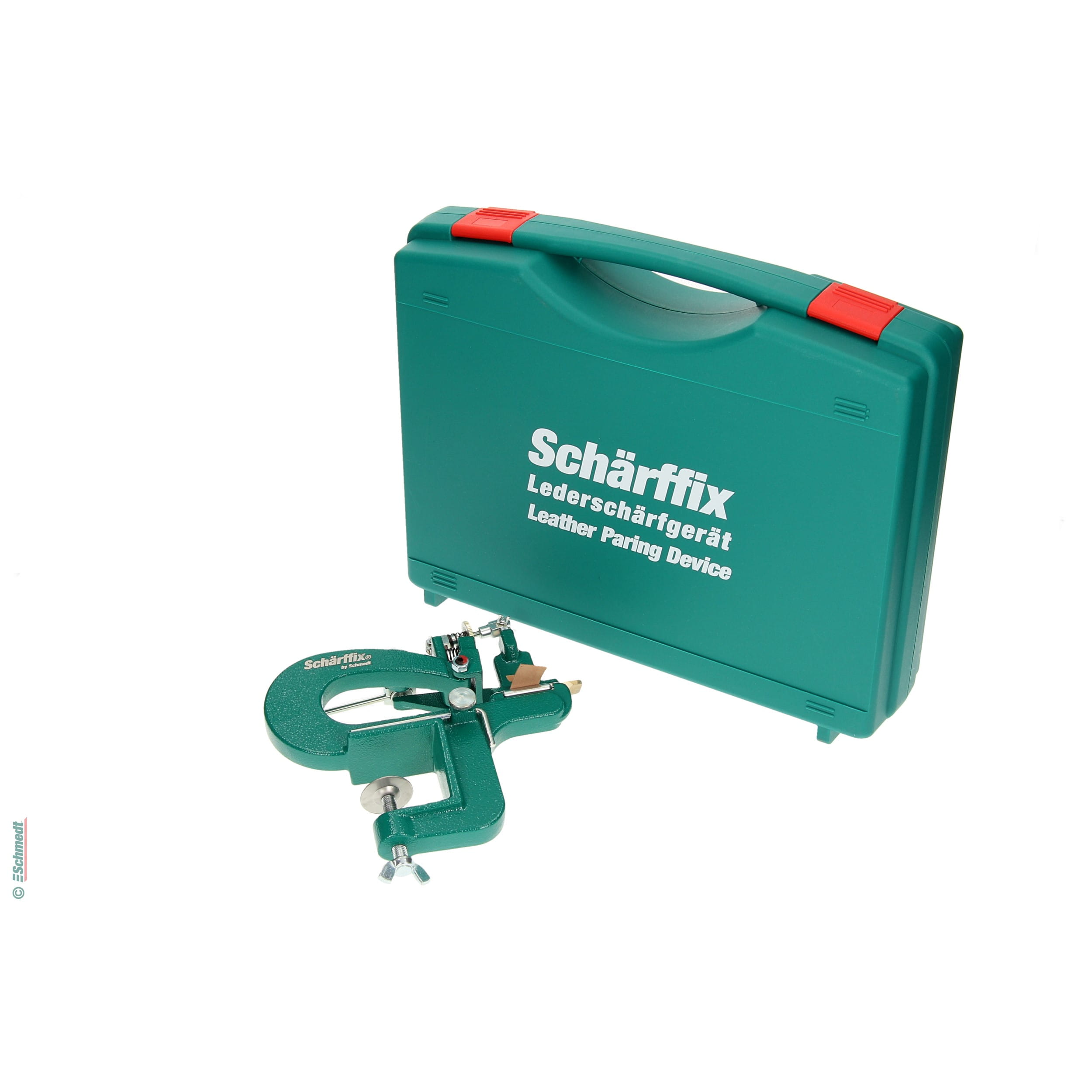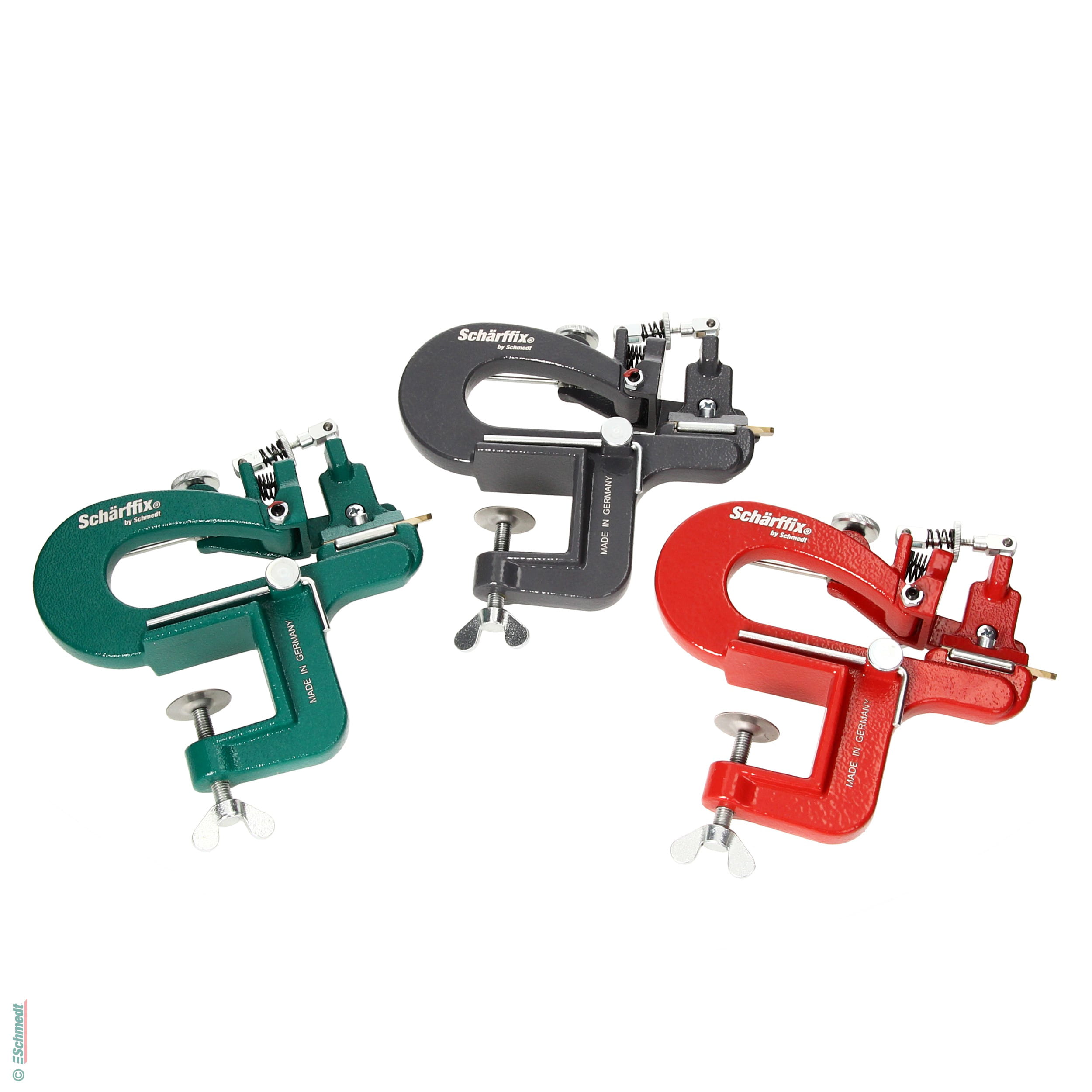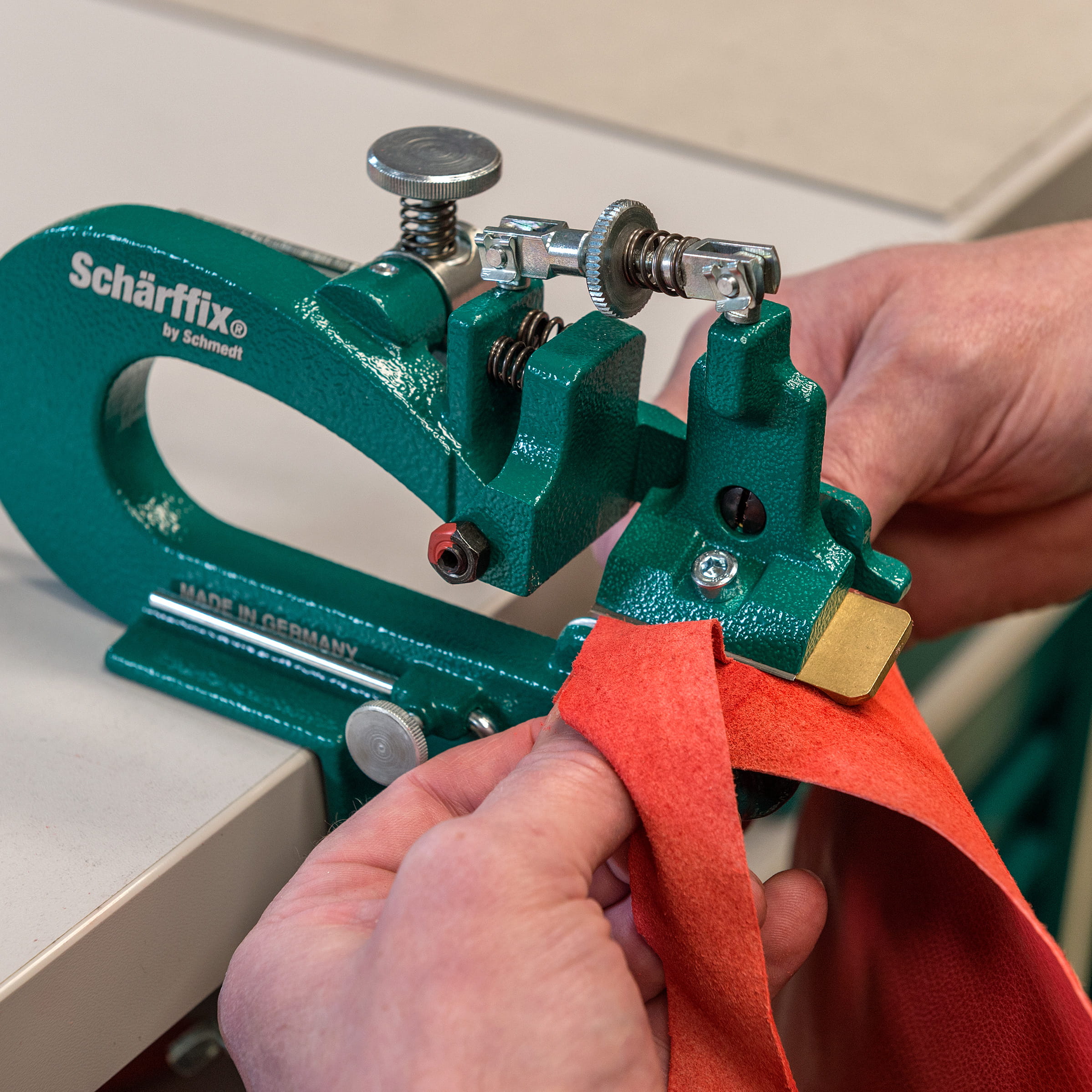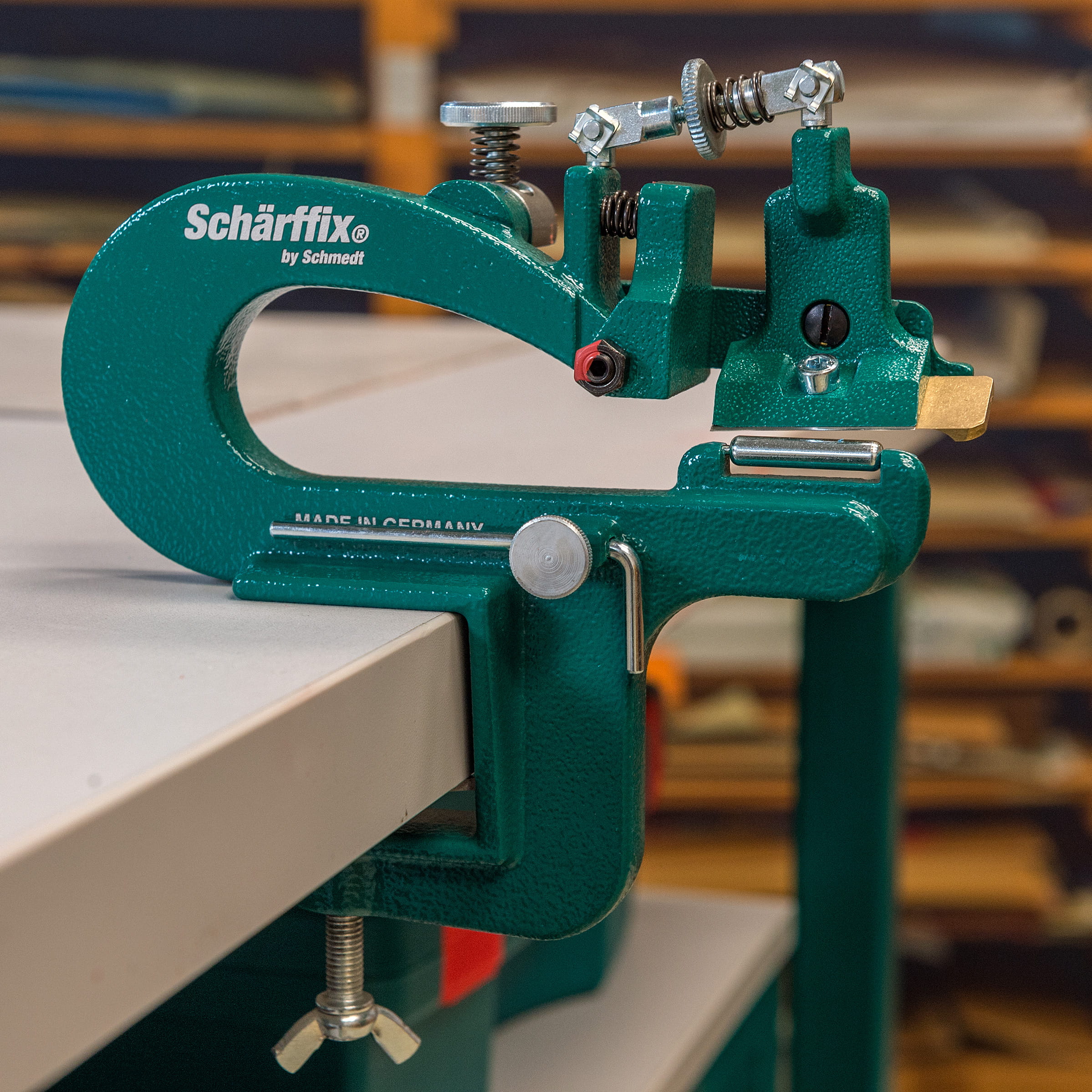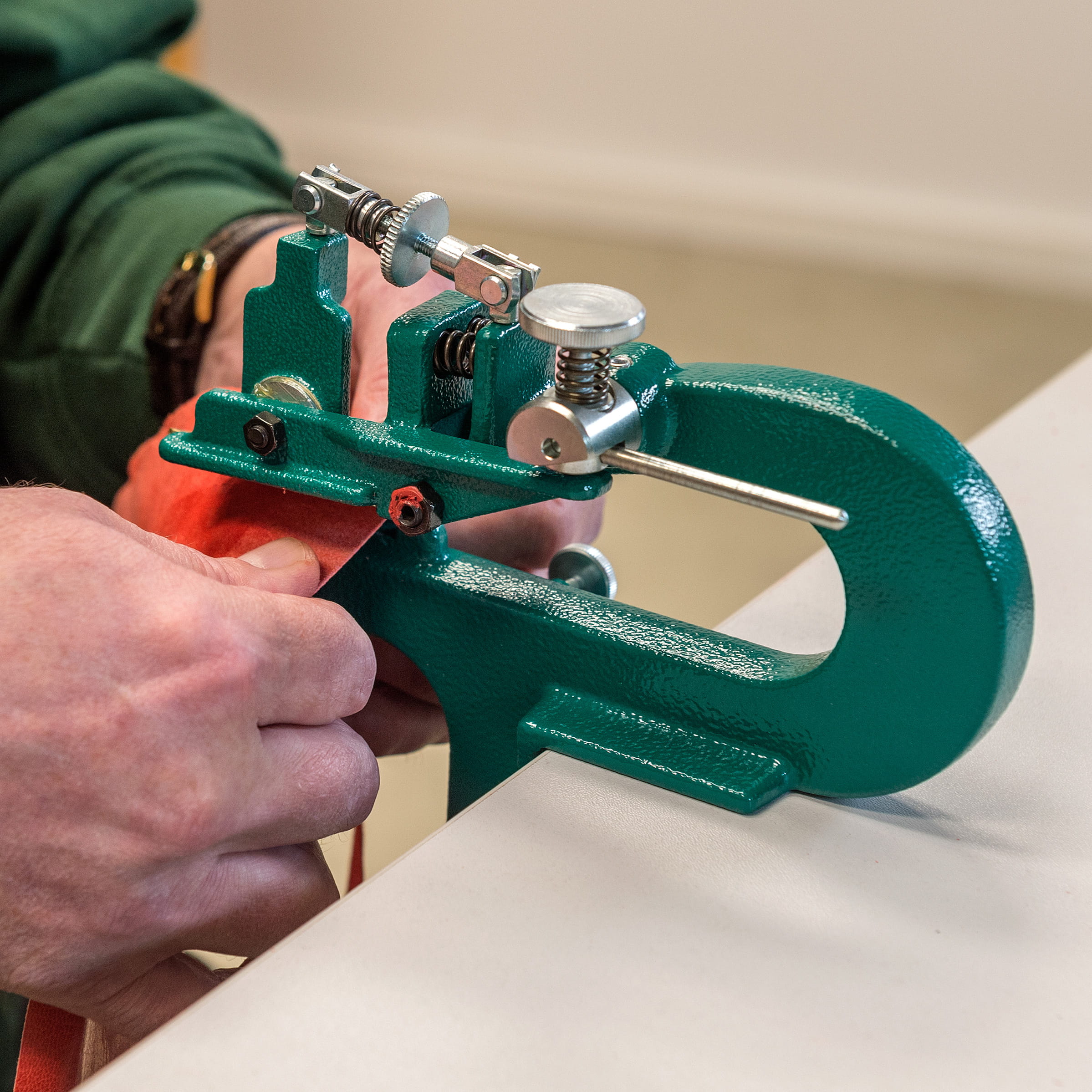 In stock, deliverable at short notice
Gross total incl.
19% VAT:
Product information "Schärffix® leather paring device, skiving tool"
The Schärffix is a tool with which you can easily pare / skive (thin out) leather for further processing. In this way, the leather can be used for a book cover or other products that need a very thin leather.
The Schärffix is a reliable device without complicated mechanics or a motor. It has been on the market for over 50 years in various stages of development, and more and more bookbinders and leather processors all over the world have realised its advantages.
With Schärffix, even large leather surfaces may be pared and with its adjustable knife, you can easily pare edges and corners. Paring rollers of different widths are available so that even narrow parts may be pared. The patented mechanism of Schäffix automatically makes the knife stay in the chosen position - no need for time-consuming adjustments.
Scope of delivery
We always deliver the Schärffix complete with accessories in a practical carrying case. The scope of delivery consists of:
Schärffix leather skiving device
Plastic case for transport and storage
1 standard roller for full-surface processing with 30mm width
3 narrower rollers with 4mm, 8mm and 12mm width (for example for paring different fold widths for leather book covers)
1 set of spare blades
Our promise
5 years warranty
10 years availability of spare parts guaranteed
Quality Made in Germany
Properties of "Schärffix® leather paring device, skiving tool"
Dimensions
Length (in mm):

340

Width (in mm):

280

Other properties
Category:

Leather paring

, Restoration

Scope of delivery:

3 excavating rollers 4, 8 and 12 mm

, 1 paring roll, 30 mm

, plastic case

, 1 packet of spare blades
https://www.schmedt.de/ww2000/pdf/e-schaerffix.pdf
https://www.youtube.com/watch?v=KNSfhgnbfsg
---
einwandfrei funktionsgerecht
Genau das was ich gesucht habe.
The Schärffix is a game-changing tool for bookbinding
The Schärffix is a game-changing tool for bookbinding enthusiasts and professionals alike. Designed specifically for leather paring, this instrument has quickly become a go-to choice for many in the bookbinding community. As someone who has purchased more than one Schärffix, I can attest to its precision and efficiency. This tool has allowed me to work quickly and with greater accuracy, saving me both time and effort. Its sharp blade and comfortable grip make it a pleasure to use, and its adjustable blade depth allows for customizability to suit individual needs. Overall, I am extremely satisfied with my purchase of the Schärffix. It has proved to be an invaluable addition to my bookbinding toolkit, and I would highly recommend it to anyone in the market for a high-quality leather paring tool. Its precision and ease of use are unmatched, making it a must-have for anyone serious about their craft.
Sieht sehr gut aus, kann nicht warten damit zu arbeiten
Ein perfekter Apparart um Leder von Hand zu schärfen, an den Kanten, in der Mitte oder größere Flächen da der Apparat hinten und vorne offen ist, eine wahre Freude auch für die Weiterverarbeitung..
Gute Handhabung, verschiedene Einsätze, sehr gute Qualität!
Danke für die schnelle Auftragsbearbeitung.
Sehr gut, Sehr gut, Sehr gut
Klein aber fein. Bestens zufriedene.
Below you can see questions that other customers have asked about this product. Do you have a question of your own? Then feel free to ask us using the button below. You decide whether your question may be published.
Does this device also work with softer leather like calf leather or nappa leather?
Our Schärffix works on all kinds of leather and especially on softer leather types. The only difficulty with Nappa-type leather will be that you always have to have really sharp blades (our Schärffix comes with spare blades, so this should be no problem) and you have to work precisely. Some of the more tough leathers will require some additional moisture to be applied to make them more flexible to guarantee good results.
Are there any tutorials that you can recommend?
For English-speakers, we can recommend this video by DAS Bookbinding (Australian YouTube channel): https://www.youtube.com/watch?v=8xCZIpEbZxc
Is the device really as easy at it seems when watching your video? Does it effectively prevent from using a professional leather parer?
Our Schärffix is as simple as it looks, but you definitely have to get some practice, as it is a manual device. Yes, it helps in being able to prepare larger areas more quickly and accurately (very smooth and even results) than with a knife.

For the corners, you will still need a leather paring knife and here it really depends on your preference (what you have learned to use best). If you are starting out, we can recommend the Asian style as it is very affordable and still great to use.
On your website, you say that those who purchased this device have also purchased spare blades (which seems fine!), angle adjustment, paring roll, thickness control: what is effectively necessary to buy?
All the necessary equipment is already included when you purchase a Schärffix on our website. Sometimes, people who own an older version buy spare blades or additional equipment (to upgrade to the current version) as well, but you do not need these with a new one and there are already 10 spare blades included when you buy the Schärffix. if you live farther abroad, it might make sense to include an additional set of spare blades already, but in general, the 10 spare blades included should last you quite some time.