Gelasco - Marbling primer
on cellulose basis
Contents: Tin / 50 g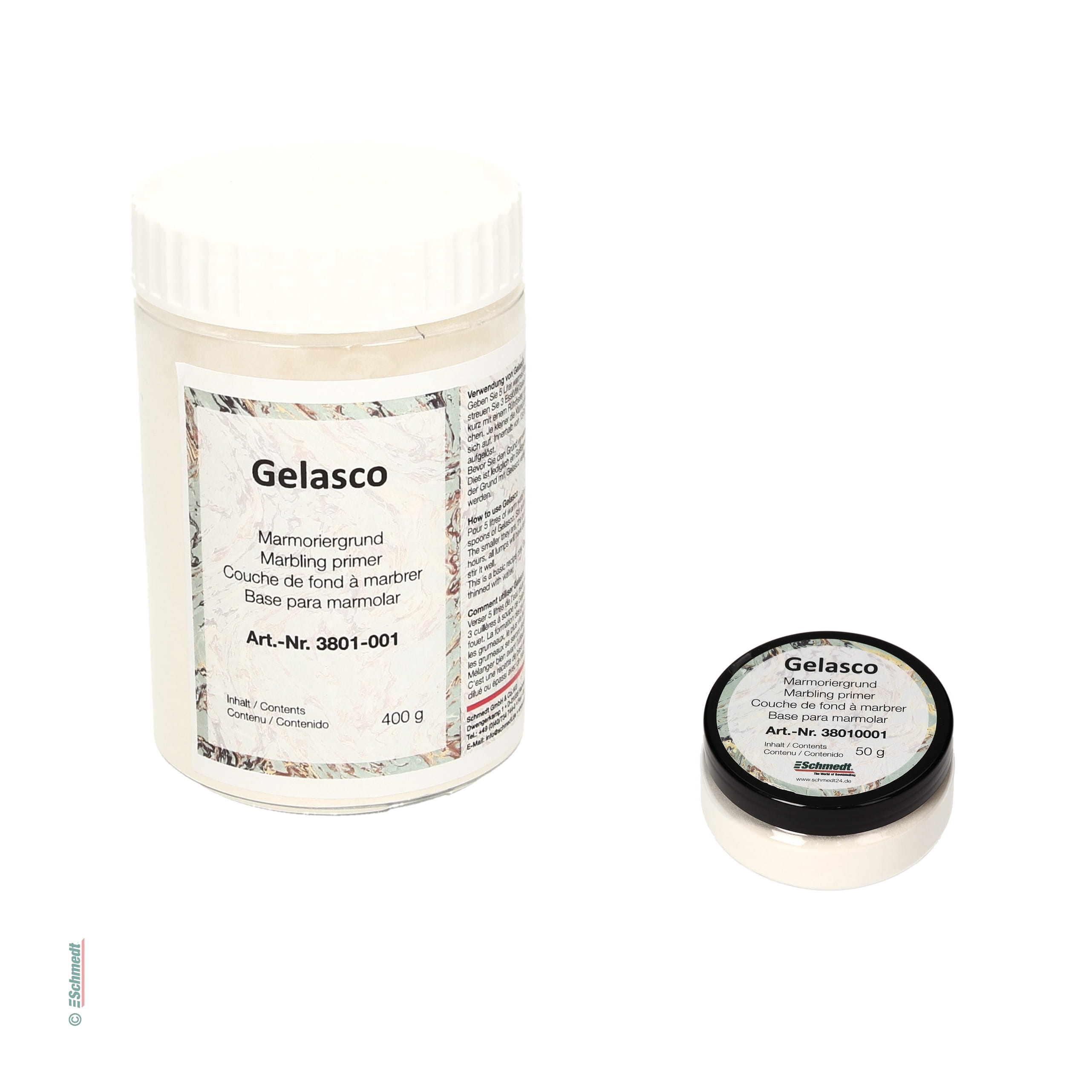 In stock, deliverable at short notice
Gross total incl.
19% VAT:
Product information "Gelasco - Marbling primer"
Primer to be used for the production of marbled papers. It serves to slow down the dyes in dispersing.
Below you can see questions that other customers have asked about this product. Do you have a question of your own? Then feel free to ask us using the button below. You decide whether your question may be published.
Wie lange benötigt der Grund an Vorbereitungszeit, um sich gut verarbeiten zu lassen?
Der Marmoriergrund benötigt nicht lang an Vorbereitungszeit. Das Pulver wird mit einem Schneebesen oder einer Bohrmaschine schnell in das warme Wasser untergerührt. Wichtig ist jetzt, dass sie dem Marmoriergrund mindestens 8 Stunden abgedeckt Ruhe gönnen. Der Grund ist dann gebrauchsfertig, wenn das Wasser in sich in eine glasklare, gelartige Masse verwandelt hat.
Wie lange hält sich der Marmoriergrund, wenn man ihn frisch angemischt hat?
Weil er aus organischem Material besteht, ist die Haltbarkeit von Marmoriergrund begrenzt. Normalerweise hält sich angerührter Marmoriergrund bis zu 4 Wochen. Wollen Sie den Marmoriergrund am nächsten Tag benutzen, reicht es, wenn Sie Eimer und Quast abdecken. Wenn Sie den Marmoriergrund länger aufbewahren möchten, dann am besten so:

Luftdicht: Zum Beispiel in einem Eimer mit Deckel oder in einem Schraubglas. Wichtig: Der Behälter sollte sauber sein, sonst kann sich Schimmel bilden.

Kühl: Bringen Sie größere Mengen am besten im Keller unter. Kleinere Reste sind im Kühlschrank gut aufgehoben.