Machines for finishing, embossing and personalisation

The demand for individuality and something special is growing more and more. We have also recognised this personalisation trend and have increasingly oriented our portfolio in this direction. In addition to our hobbyhorse of embossing presses, our solutions for round books and our book corner presses, we now also offer a book edge printer and solutions for attaching headband and bookmark ribbon.
Finish and personalise book edges with our PräziEdge
With our PräziEdge book edge printer, there are no limits to creativity. In addition to an opaque, uniform colour edge, filigree patterns and motifs can also be realised in high detail, as well as graphics and photos in an impressive 3d look.
And not only book edges can be printed - our customers have already finished a variety of other products such as boxes, business cards or paper bags with our machine.
Elegant personalisation with embossing

A book gets a special touch with a title and spine embossing or an embellishment by means of hot foil stamping. The coating of the foils is released by pressure and heat and pressed onto material. A metallic glossy or matt embossing foil makes a book a special feature on the bookshelf, archive or library.
A real embossing is still a feature that customers appreciate. It not only enhances the product, but also clearly differs in feel and look from laser engraving or printing. Embossing also always looks a little more upscale than the alternatives, which have a more industrial feel.
Patterns, motifs or characters can also be embossed on leather and parchment covers without foil. This is called blind embossing.
For embossing, we offer the PräGnant XS, a handy device for small workshops and mobile use, our proven PräGnant embossing press and our computer-controlled PräziMark.
Unlike traditional embossing presses, our PräGnant (XS) keeps the end product in focus throughout the process - the operator can see directly how the embossing result turned out and can adjust the temperature or pressure if necessary and emboss again - without moving the product.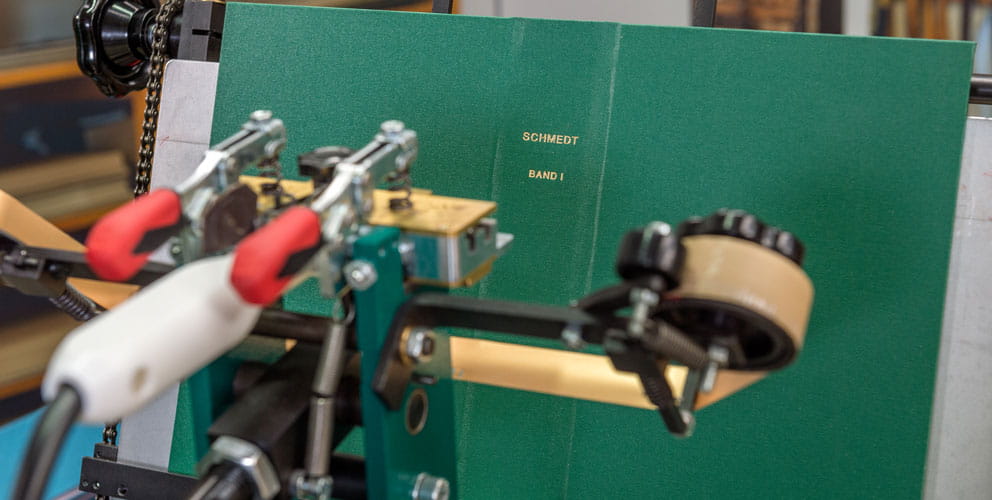 Round books are back in style!
Round spines are a quality feature, often look higher quality than their straight spine brethren and improve impact performance. Particularly in the books-on-demand sector, round books are increasingly requested by end customers.
Historically, round books were often produced using the Lumbeck process, i.e. with cold glue, but nowadays hotmelt or PUR are often used in production in perfect binders. This increases the complexity of finishing a round book, as precise heat and accurate pressure must be applied in the rounding process. We have further developed our PräLomo Pro rounding machine in the spring of 2021 to meet these requirements as well.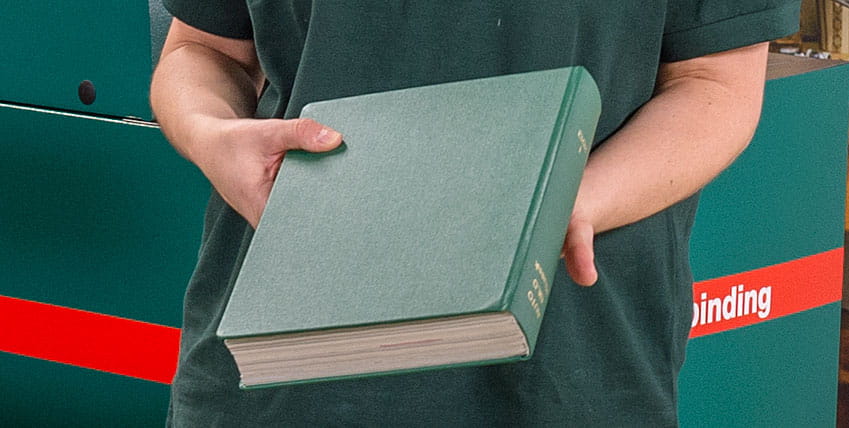 All machines for finishing, embossing and personalising