Case-making machines

The process of case-making is an integral part of the production of hardcover books. We offer various options for the production of book cases: from manual to semi-automatic production. The focus is always on high quality and minimum set-up times, even with changing formats. In addition to book cases, our machines are also used to produce boxes, slipcases, folders, game boards, calendars and other products made of cardboard covered with material - from individual items to series production.
Entry-level solution for case-making
Our entry-level solution (up to 70 pieces per hour) for case-making consists of the PräDeka system (combination of the PräDeck and PräKant, which can also be purchased separately). These are space-saving tabletop machines that enable production with changing formats and in small batches, while maintaining consistently high quality. The PräDeka system can be expanded to include the PräziCoat gluing machine shown in the picture and an automatic water supply with the PräVis.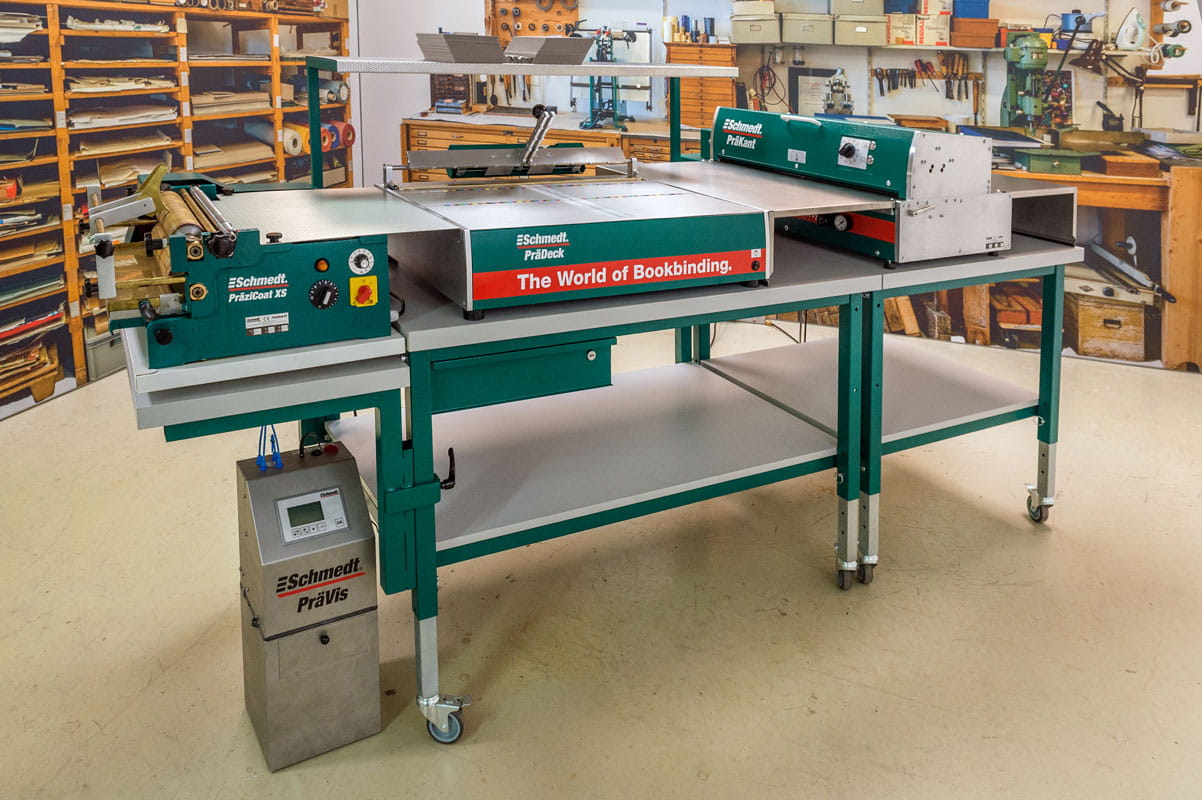 Hardcovers in large format and with special materials - no problem for our PräDeka XL
Our mid-range PräDeka XL machine covers the widest format range, while at the same time significantly increasing output. With the PräDeka XL, almost any format can be produced, from small book covers to large menus and sample books. The solution is designed for single book production as well as for series production in industrial bookbinderies and printing plants. It enables a production of up to 120 pieces per hour and allows the processing of DIN formats A6 to A3 portrait & landscape.
Go to PräDeka XL
Barcode-controlled on-demand production with the Cover-1 system
Our most productive hardcover line is a professional and automated book-on-demand solution for barcode-controlled case-making of over 250 pieces per hour - the Cover-1 system. In the full-featured Cover-1 system, all components of the book cover are cut on-demand for the particular book being processed at the time, so no manual preparatory work (such as cutting the cover material or boards) is required.