Cover sheets | transparent
PVC film - for ring bindings
Dimensions: 210 x 297 mm | Material thickness (in mm): 0,2 | Surface: glossy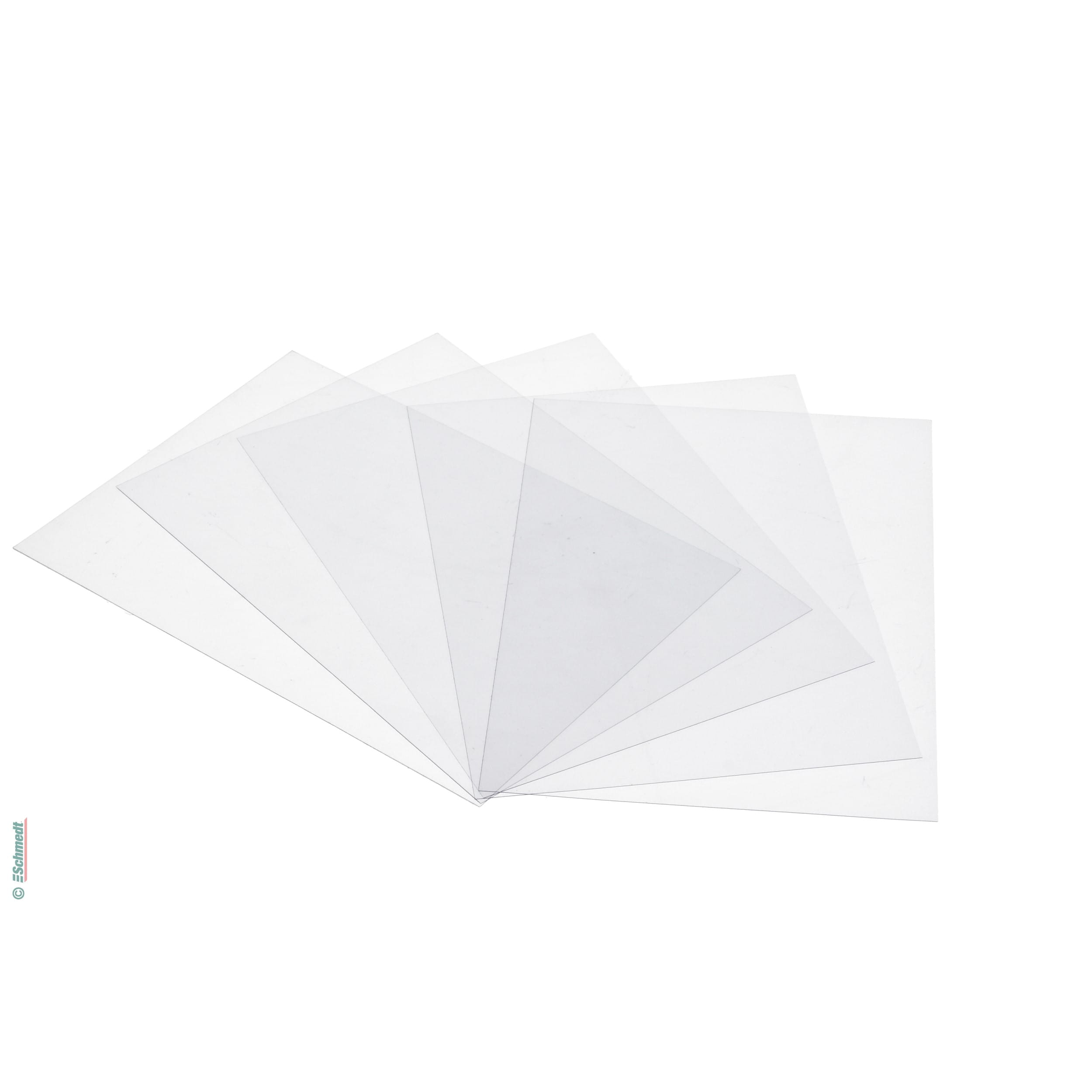 In stock, deliverable at short notice
Gross total incl.
19% VAT:
Item number:
8804-020
Dimensions: 210 x 297 mm

Material thickness (in mm): 0,2

Surface: glossy
Product information "Cover sheets | transparent"
to protect the title sheet and to stabilize bound documents
Sales unit : Packet of 100 pcs
Properties of "Cover sheets | transparent"
Dimensions
Format:

for DIN A4

Colour
Colour:

transparent

Material
Material:

PVC film

Other properties
Category:

Plastic-comb binding

, Ring & Wire-comb binding

Minimum order quantity:

as of 1 sales unit

Sales unit:

Packet of 100 pcs
https://www.schmedt.de/ww2000/pdf/d-td_deckblaetter_aus_folie.pdf
Below you can see questions that other customers have asked about this product. Do you have a question of your own? Then feel free to ask us using the button below. You decide whether your question may be published.
Hallo Schmedt-Team, gibt es dies PVC Einband-Deckel auch bedruckbar? Würde gerne auf dem Einband-Material ein Motiv drucken (Farb-Laser oder Injet) um mit der darunterliegenden Seite ein "Gesamtbild" zu schaffen.. (ohne zB. das Logo auf dem Cover) direkt auf das drunter liegende, andere Motiv "drüber" drucken zu müssen. PS: eine Overhead-Folie, ist mir an der Stelle als EINBAND zu dünn. Vielen Dank vorab für Ihre Rückmeldung Ralf K.
Hallo Ralf K.,
vielen Dank für Ihre Anfrage.
Dieses Produkt kann nur mit lösemittelhaltiger Tinte oder im Latexdruckverfahren bedruckt werden.
Ein herkömmlicher Tintenstrahl- oder Laserdrucker ist für dieses Material nicht geeignet.

Eine andere Variante dieser Folie haben wir nicht im Sortiment.

Viele Grüße,

Ihr Schmedt-Team