English Buckram Matt | binding cloth
with matt coated surface
Colour: 407 - red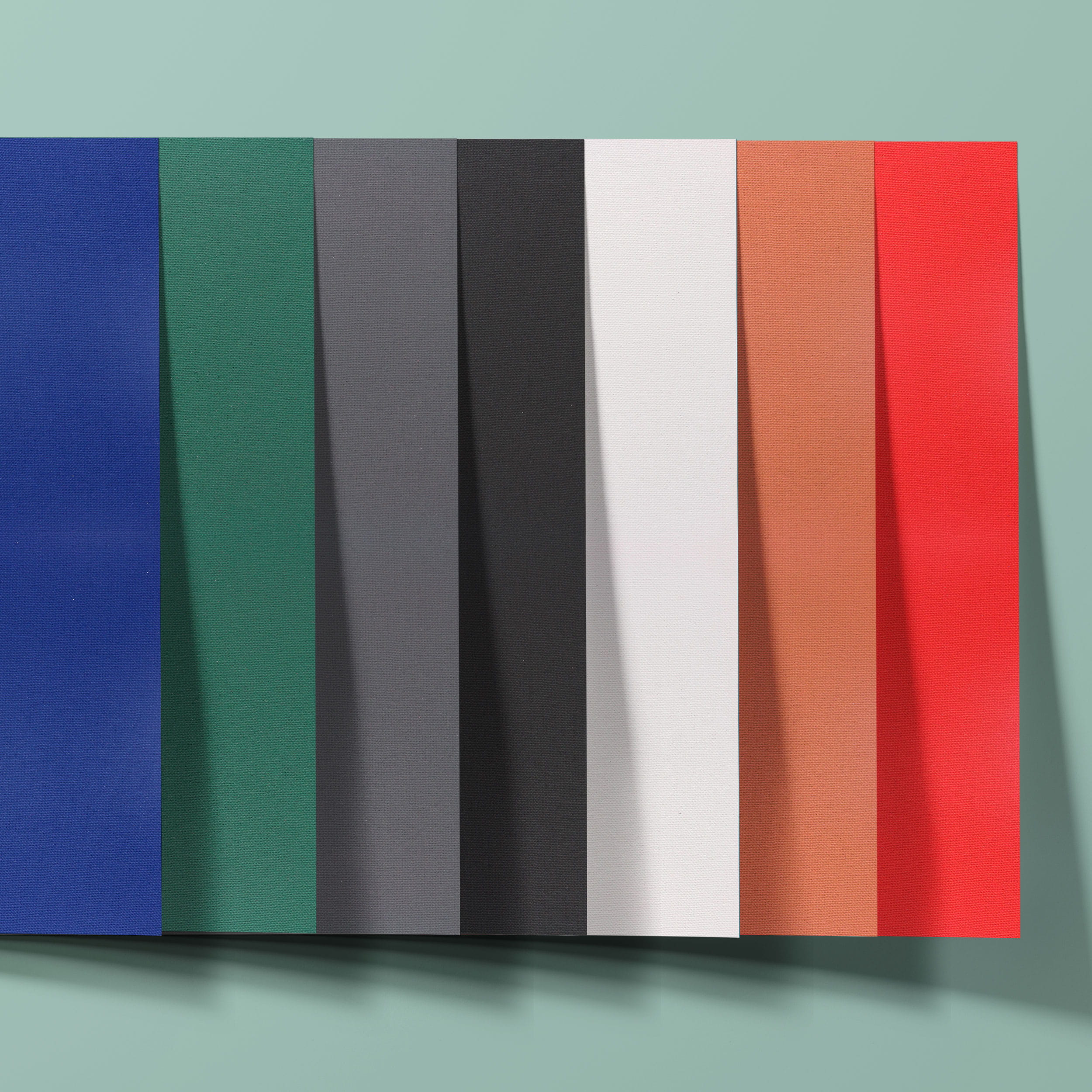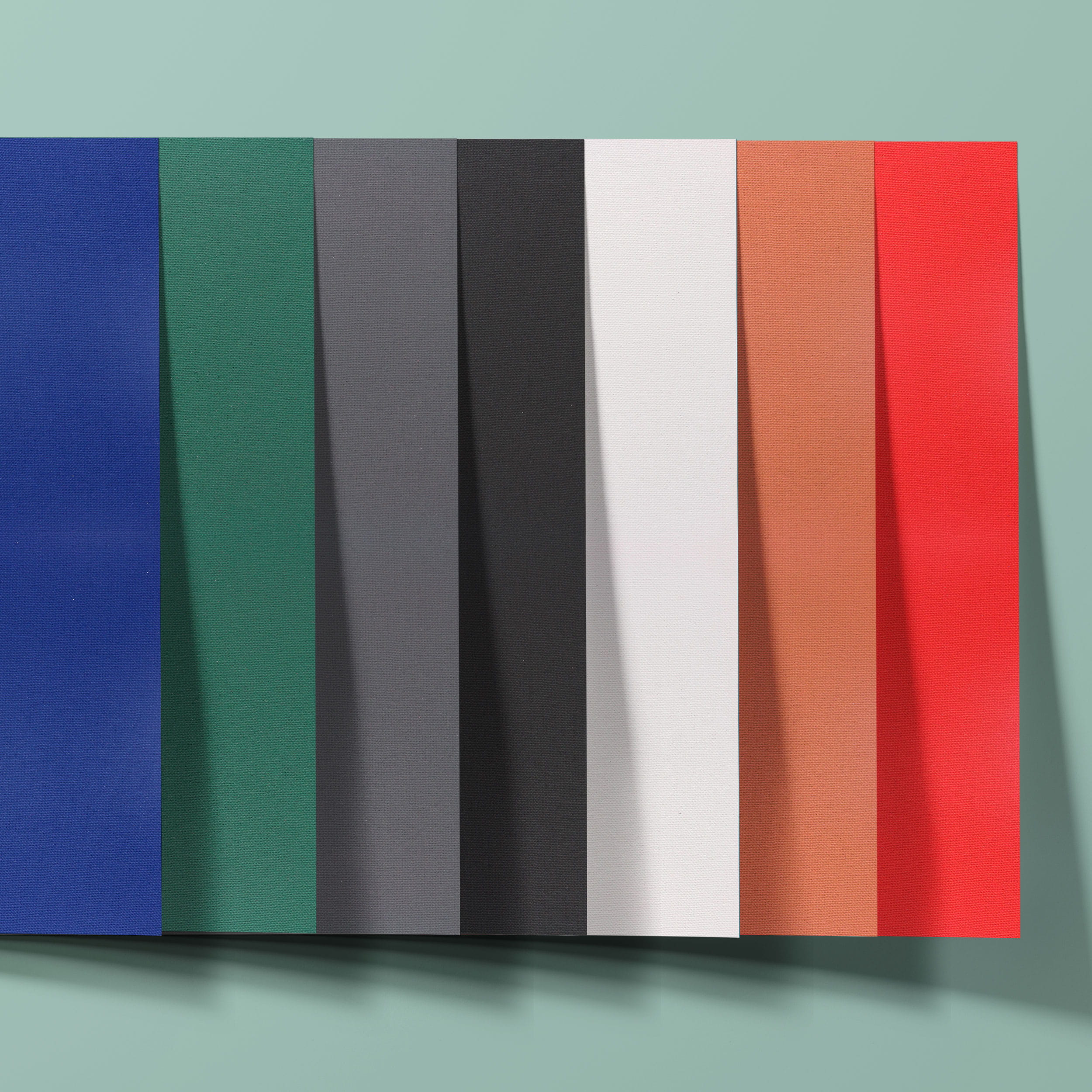 The color in the photo may differ from the actual color. If available, you will find a link to our sample card for this material further down this page.
In stock, deliverable at short notice
Gross total incl.
19% VAT:
Product information "English Buckram Matt | binding cloth"
Cotton cloth with matt PU coating.
Format : on rolls
Width (in mm) : 1040
Application: Applications: for book covers, menu cards (Attention: not as ideally suited as our other buckram varieties. The matt coating is more difficult to emboss and is not 100% scratch resistant. We recommend testing beforehand in any case), notebooks, folders etc.
Order quantities up to 5 lin. metres may not be returned and are not exchanged.

Cutting service: If requested, we may precut the goods according to your requirements. Precut goods may also not be returned and are not exchanged.
Properties of "English Buckram Matt | binding cloth"
Dimensions
Format:

on rolls

Roll length (in m):

50

Thickness in mm:

0,38

Width (in mm):

1040

Colour
(Similar to) Pantone colour:

1805 C

Surface & Texture
Cloth type:

coated

Surface:

matt

Texture:

fine

Technical details
Type:

Matt

Material
Grammage:

295 gsm

Material:

100 % cotton with pigmented PU coating

Paper backing:

no

Finished products
Finished products:

book covers

, library books

, photobooks

, photo albums

, menus

, diaries

, file folders

, packagings

Other properties
Category:

Binding cloth with coated surface

, English Arbelave Buckram

, Library cloth (Buckram)

Ecological features:

plasticizer-free

, solvent-free

, wipeable

Finishing / Printability:

Hot-foil stamping

, Blind embossing

, Screen printing

, Latex digital printing

Minimum order quantity:

as of 1 linear meter
https://www.schmedt.de/ww2000/pdf/e-td_englisch_buckram_matt.pdf
Below you can see questions that other customers have asked about this product. Do you have a question of your own? Then feel free to ask us using the button below. You decide whether your question may be published.
Wir möchten gerne Buckram auf Buckram kleben und suchen hierfür einen geeigneten Klebstoff. Können Sie einen passenden Klebstoff empfehlen?
Grundsätzlich kann dies mit zwei Klebstoffarten abgebildet werden, die wir empfehlen können: unser Kaschierleim PräTack K22 (https://www.schmedt.de/art/36200405) oder wenn eine Anleimmaschine genutzt wird eine Heißleim-Gallerte wie z.B PräMelt OT30 Universal (https://www.schmedt.de/art/36995230).
Order sample card for English Buckram Matt | binding cloth
We know how important it is to see and feel materials live - that's why we offer samples for most of our materials already pre-made on sample cards. On these sample cards you will find all textures and shades for the respective material. Just click on the banner below to go directly to the respective sample card.
All English Buckram products
Wide colour variety with 67 different colours and four types (all ex-stock):