Maroquin - leather balm
for cleaning and softening
Contents: Bottle / 250 ml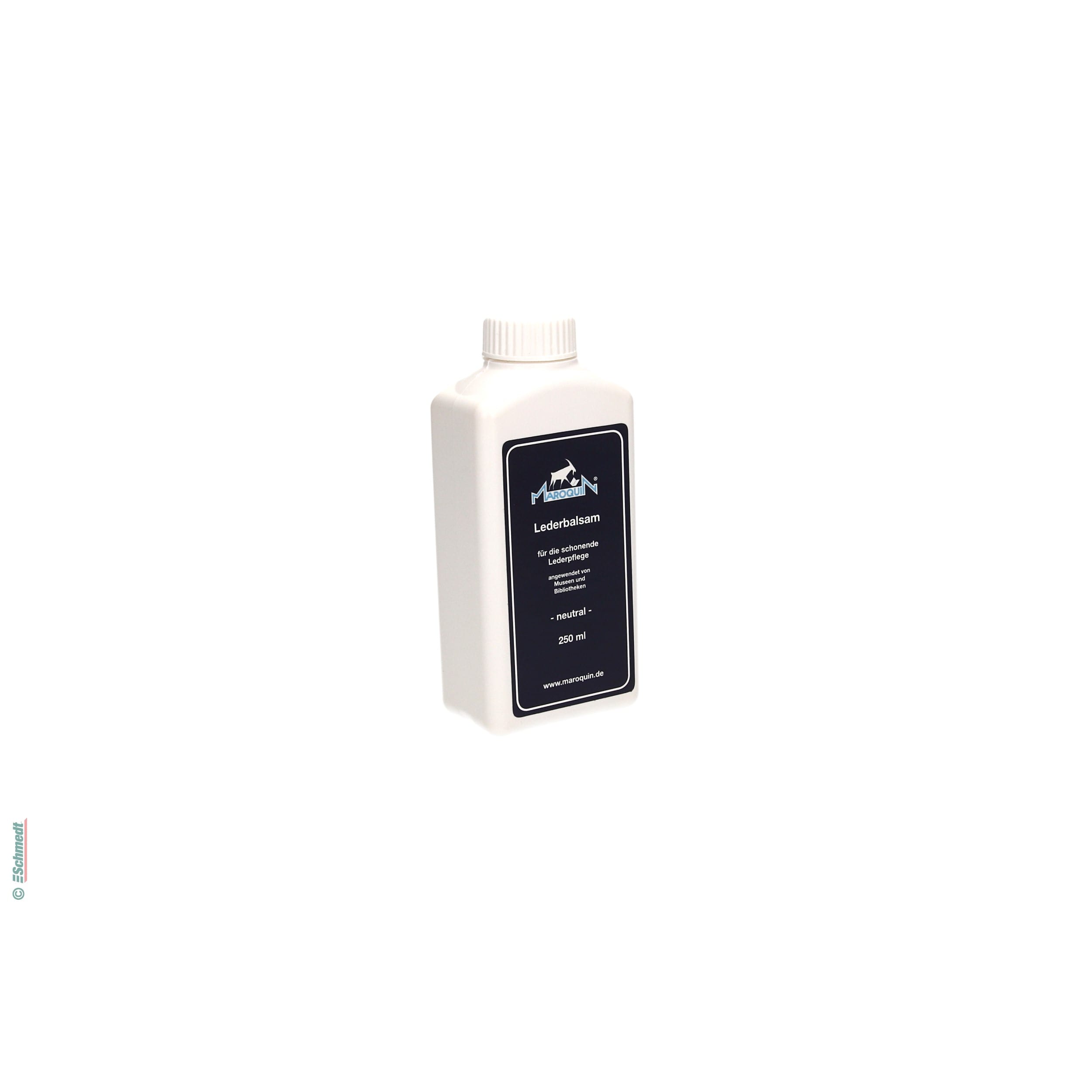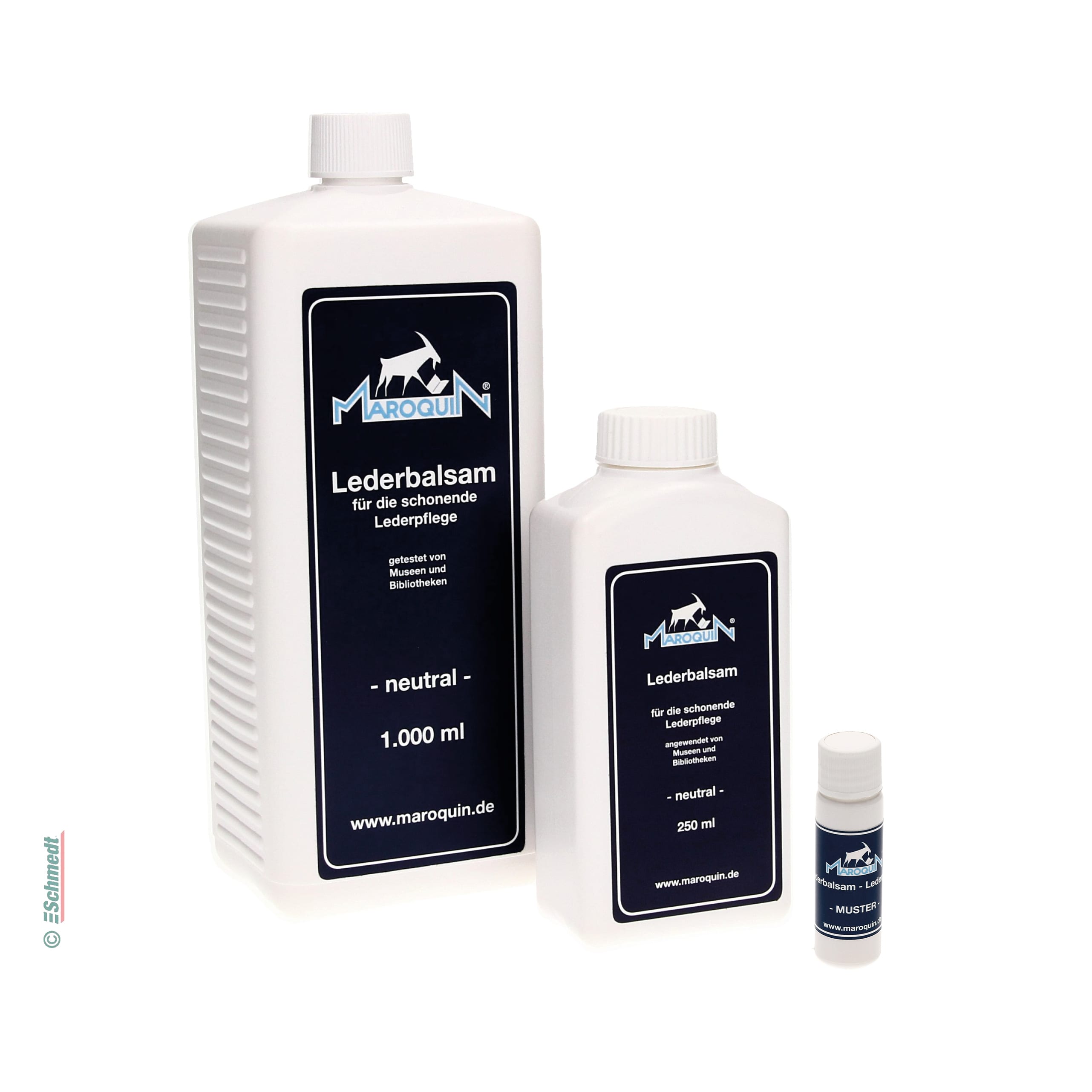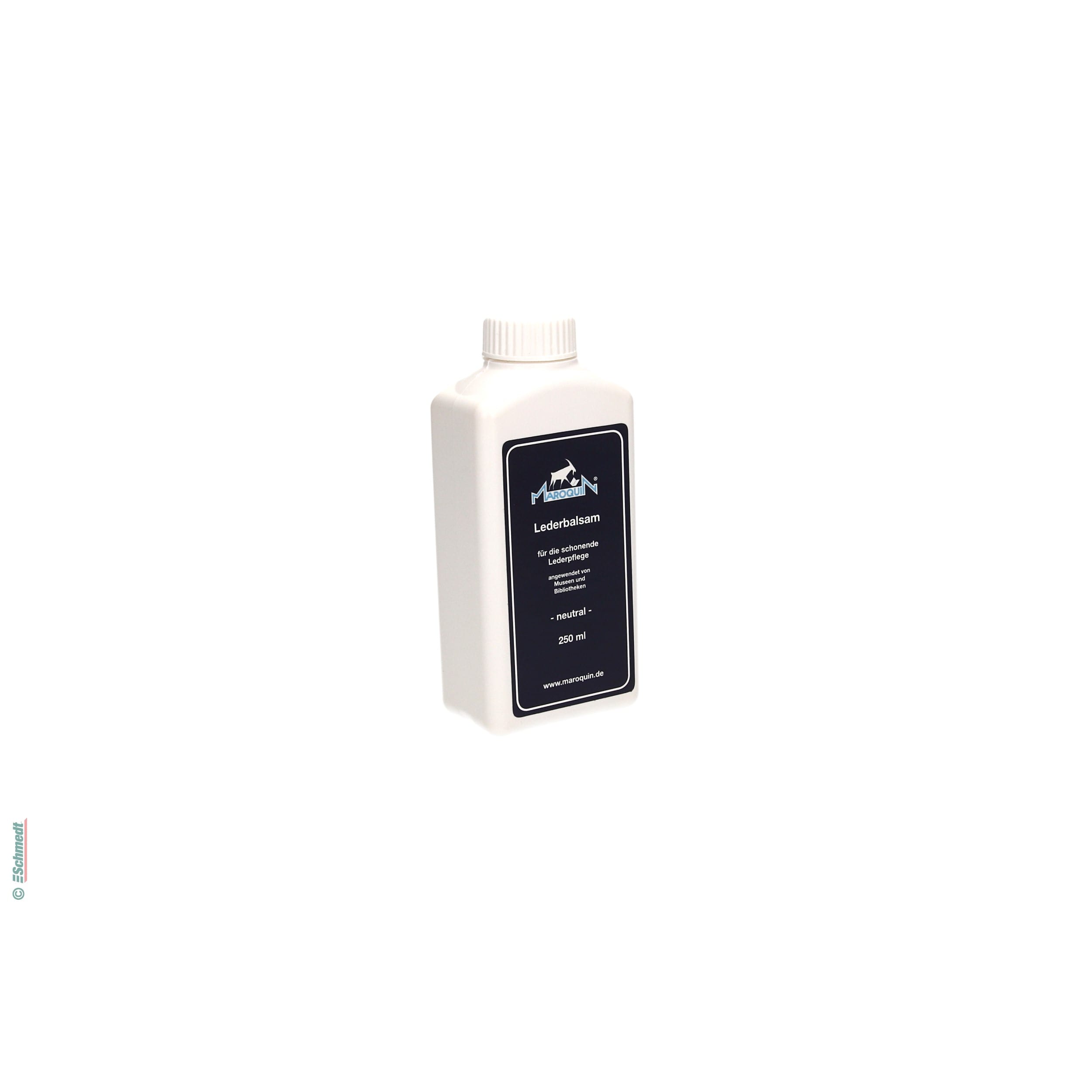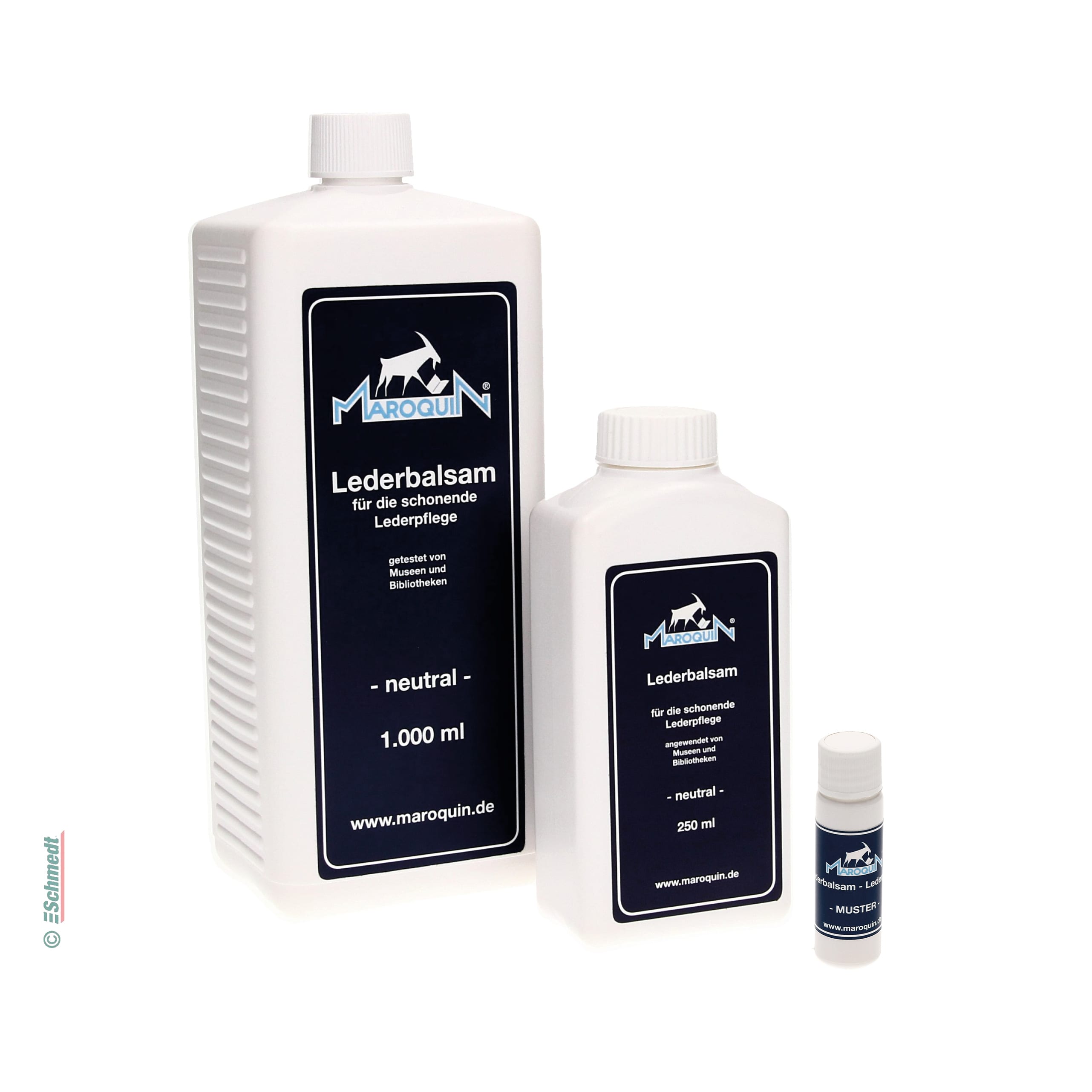 In stock, deliverable at short notice
Gross total incl.
19% VAT:
Item number:
3867-001
Contents: Bottle / 250 ml
Product information "Maroquin - leather balm"
It cleans the pores, lets the leather breathe again and makes it soft and smooth.
Gildings are not affected, but are emphasized.
Application: Balm to clean and soften old or rough leather and parchment
Properties of "Maroquin - leather balm"
Colour
Colour:

yellow to brown

Material
pH value:

6,85

Other properties
Category:

Leather preservatives

, Maroquin Leather Care

, Preservation and prevention

, Restoration

Minimum order quantity:

as of 1 bottle
https://www.schmedt.de/ww2000/pdf/e-td_maroquin_leather_balm.pdf
Authenticity of customer reviews
Each review is checked for authenticity before it is published, ensuring that reviews only come from consumers who have actually purchased/used the reviewed products. Since Feb 01 2022, we have been using the features of our store system to collect product reviews. Each rating is manually checked by us before publication and only released after successful verification that the customer has actually purchased the product (comparison of the rating with the order history in our merchandise management system). Until Jan 31 2022, we collected product ratings via the external provider Trusted Shops. Here, individualized links were transmitted to the respective consumer after completion of an online order, which led to an online rating form and ensured that access to the rating function was only granted to consumers who actually purchased the product.
---
Das Leder wird wirklich wieder schön sauber ohne die Goldprägung anzugreifen. Keine Verfärbung und der Falz bricht nicht mehr - trotz hohen Alters und völliger Austrocknung.
Top Qualität und erstklassige Ware
Sehr gut bei der Restaurierung von altem Leder.
Alles ist OK und gut angekommen
Schnell das richtige Produkt bekommen. Gern wieder!
wir verwenden dieses Produkt für die Buchpflege und sind seit Jahren damit sehr zufrieden
Ich kann diesen Artikel weiterempfehlen. Maroquin - Lederbalsam ist besonders für brüchiges Leder sehr gut geeignet.
Zur Restauration alter Lederhelme gibt es nichts besseres.
Bin sehr zufrieden, Danke
Below you can see questions that other customers have asked about this product. Do you have a question of your own? Then feel free to ask us using the button below. You decide whether your question may be published.
Sind Maroquin Lederbalsam und Ledervaseline separat einzusetzen oder sind sie miteinander kompatibel? Wann ist welches Produkt zu verwenden?
Grundsätzlich werden die beiden Produkte Lederbalsam und Ledervaseline für unterschiedliche Anwendungsfälle genutzt. Der Lederbalsam ist ein Reinigungsbalsam zum Öffnen der Poren und Reinigen des Leders (ähnlich wie ein Seifenschaum) bei Verunreinigungen der Oberfläche. Die Ledervaseline wird zur regelmäßigen Pflege (und Vorbeugung von Austrocknung) des Leders genutzt. Sie macht das Leder wieder geschmeidig und auch ausgetrocknete Leder bekommen wieder ihren Glanz.
I think I made a mistake in applying the leather balm. I probably used too much of the emulsion, because the surface of the leather is now sticky. Is it safe to apply again?
According to your description, you probably applied the leather balm itself and not the foam. The good news is that by reapplying the leather balm correctly (described in another question below in more detail), you should also be able to remove the sticky layer that has now formed and clean the surface.
How do I correctly apply Maroquin leather balm?
Correct application (be patient and prefer to start with less foam, the process can be repeated if you notice that the cleaning was not 100% successful):
1. Lightly lather up the leather balm with a clean sponge (beat like soap to create foam)
2. Pick up only the foam with a clean (or well wrung out) sponge
3. Apply firmly with circular movements
4. Clean the sponge and apply new foam
5. Repeat until you feel that the leather is sufficiently clean
6. Allow to dry thoroughly (a few hours should be sufficient) - the leather must be really dry afterwards, and you will feel it
7. Repeat the cleaning process if necessary, if the sticky effect persists
8. Grease lightly with Maroquin leather vaseline
What is the leather balm actually used for?
The balm is basically a cleansing balm to open the pores and clean the leather (similar to a soap foam).
I have bought Maroquin products (vaseline & leather balm) in 2005. Are they still okay to use?
With vaseline, you don't have to worry about shelf life. As long as the consistency is creamy, you can use it without hesitation. With leather balm, this is only true to a limited extent. When the balsam begins to break down (the emulsion no longer looks milky but forms grains or turns brown), we no longer recommend its use on high-quality bindings. The active ingredients against fungal attack are then no longer active enough. If the balm starts to smell rancid, you should discard it.