PräFix 600 - double-sided adhesive tape
paper fleece - strong adhesion
Roll length (in m): 50 | Width (in mm): 6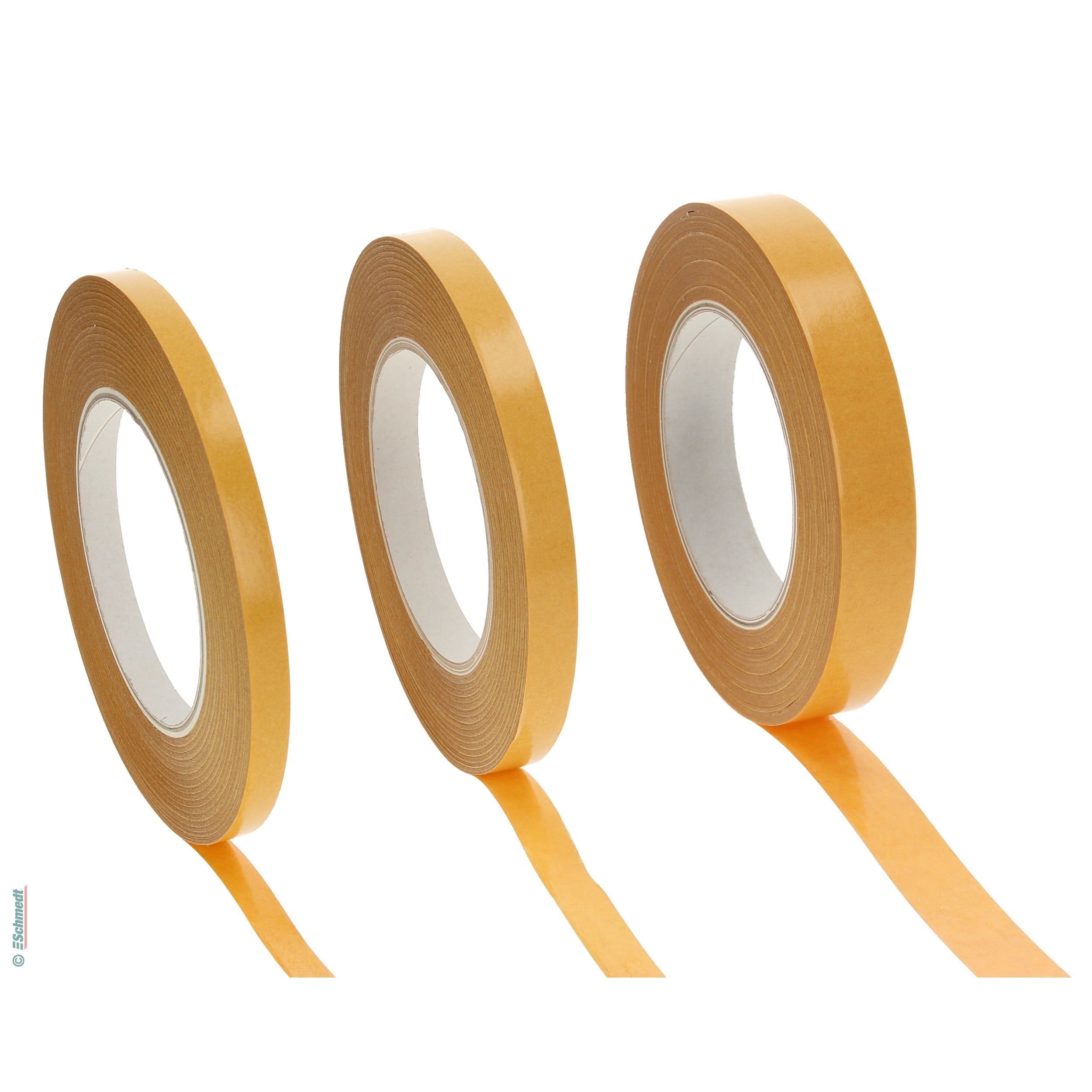 In stock, deliverable at short notice
Gross total incl.
19% VAT:
Item number:
32901006
Roll length (in m): 50

Width (in mm): 6
Product information "PräFix 600 - double-sided adhesive tape"
Translucent paper non-woven coated with a plasticiser-resistant, solvent-based acrylate adhesive on both sides. Easy to tear off by hand.
Material thickness (in mm) : 0,09
Adhesion : strong
Applications: for gluing and equipping paper and cardboard (also slightly coated) as well as highly energetic plastics, felt, foam, metal and ceramics
Sales units:
4 mm - 37 rolls
6 mm - 25 rolls
9 mm - 16 rolls
12 mm - 12 rolls
15 mm - 10 rolls
19 mm - 8 rolls
9 mm x 200 m - 32 rolls


Sold by the roll.
Properties of "PräFix 600 - double-sided adhesive tape"
Dimensions
Core Ø (in mm):

76

Format:

on rolls

Thickness in mm:

0,09

Surface & Texture
Surface:

both sides self-adhesive

, translucent

Adhesive properties
Adhesion:

4 N/cm - on steel

, strong

Adhesive:

solvent acrylate

Technical details
Temperature resistance:

-20 °C up to + 120 °C

Material
Material:

Non-woven paper

Other properties
Category:

Adhesive tape

Ecological features:

plasticizer-resistant

Minimum order quantity:

as of 1 roll

Sales unit:

25 rolls
https://www.schmedt.de/ww2000/pdf/d-td_praefix_600.pdf
Authenticity of customer reviews
Each review is checked for authenticity before it is published, ensuring that reviews only come from consumers who have actually purchased/used the reviewed products. Since Feb 01 2022, we have been using the features of our store system to collect product reviews. Each rating is manually checked by us before publication and only released after successful verification that the customer has actually purchased the product (comparison of the rating with the order history in our merchandise management system). Until Jan 31 2022, we collected product ratings via the external provider Trusted Shops. Here, individualized links were transmitted to the respective consumer after completion of an online order, which led to an online rating form and ensured that access to the rating function was only granted to consumers who actually purchased the product.
---
Tolles Produkt, sehr gute Verarbeitbarkeit, hohe Klebekraft.
Alles OK........................
Below you can see questions that other customers have asked about this product. Do you have a question of your own? Then feel free to ask us using the button below. You decide whether your question may be published.
Was ist der Unterschied zwischen dem PräFix 600 und 700?
PräFix 600 besteht aus einem transluzenten Papiervlies und ist somit nicht so stark klebend wie das PräFix 700, welches aus einem sehr stark klebenden Folienband besteht. Das PräFix 600 lässt sich leicht von hand abreissen.