Scotch 904
double-sided adhesive film, high initial adhesion
Width (in mm): 12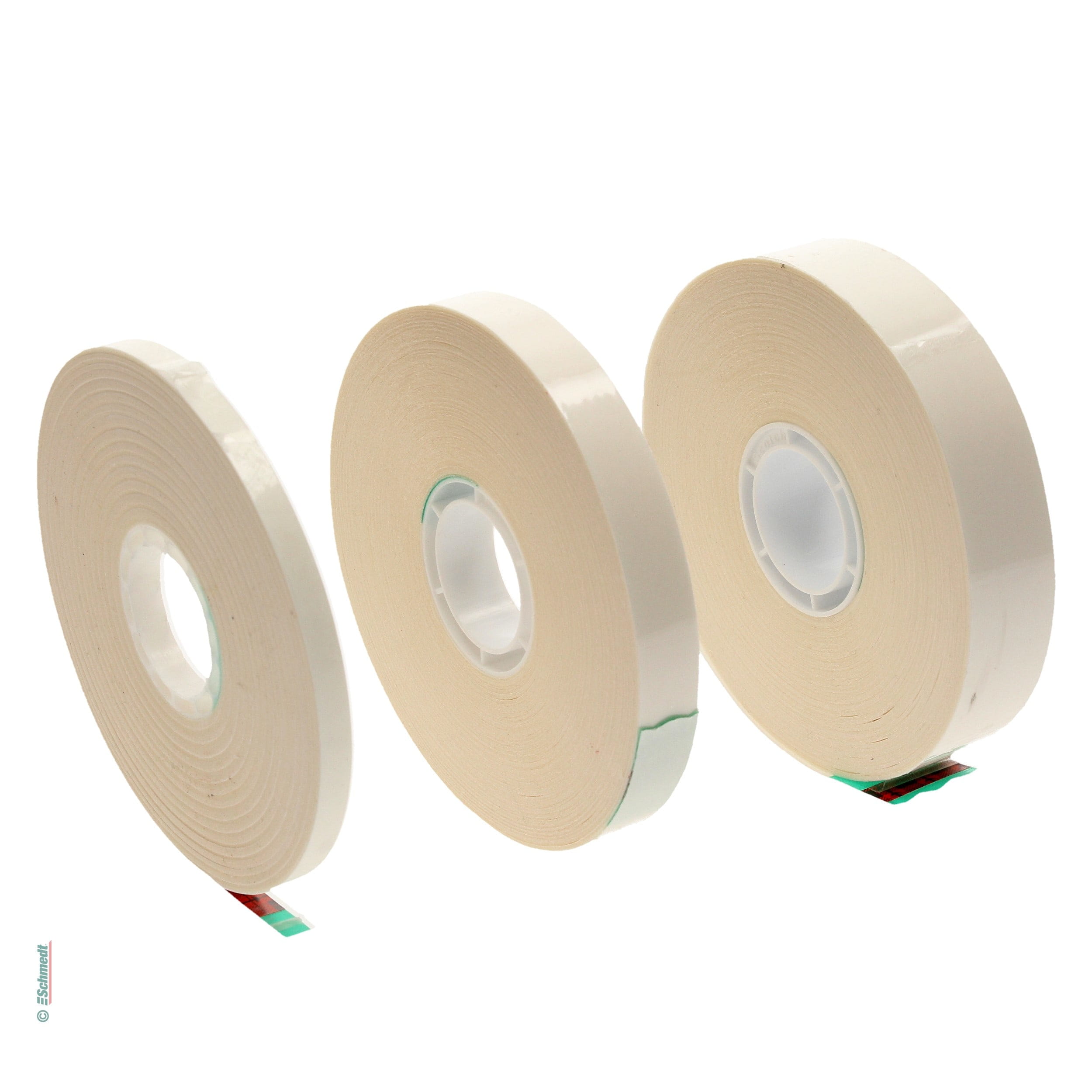 In stock, deliverable at short notice
Gross total incl.
19% VAT:
Product information "Scotch 904"
Transparent transfer adhesive film with attractive price-performance ratio for use in the hand dispenser ATG 700.
Application: self-adhesive equipping of photos, posters etc., fixing and mounting of advertising material (e. g. displays, samples, posters)
As a cheaper alternative we offer PräFix 904, item 4160-006 .
Properties of "Scotch 904"
Dimensions
Core Ø (in mm):

25,4

Format:

on rolls

Roll length (in m):

44

Thickness in mm:

0,05

Colour
Colour:

transparent

Surface & Texture
Surface:

both sides self-adhesive

Adhesive properties
Adhesion:

50 N / 100 mm - on steel

, strong

Adhesive:

Acrylate - A50

Technical details
Temperature resistance:

+ 70° C, short period 90° C

Finished products
Finished products:

posters

, framing

, stand-up displays

, displays

, labels

, photos

Other properties
Category:

Adhesive without carrier

Minimum order quantity:

as of 1 roll
https://www.schmedt.de/ww2000/pdf/d-td_scotch_904.pdf
https://www.schmedt.de/ww2000/pdf/d-pi_scotch-klebebaender_atg.pdf
Below you can see questions that other customers have asked about this product. Do you have a question of your own? Then feel free to ask us using the button below. You decide whether your question may be published.
Was ist der Unterschied zwischen dem Artikel Gudy 831 und Scotch 904?
Gudy 831 hat einen Träger bei dem auf beiden Seiten der Klebstofffilm aufgebracht ist. Bei Scotch 904 fehlt dieser Träger, wo der Klebstoff aufgebracht ist - hier ist lediglich ein Klebstofffilm vorhanden. Scotch 904 kann daher nur mit einem Abroller aufgetragen werden, wohingegen Gudy 831 auch manuell benutzt werden kann.