Edge gilding roll, electrically heated
Width: 50 mm
Power supply: 230 V / 50 - 60 Hz (AC)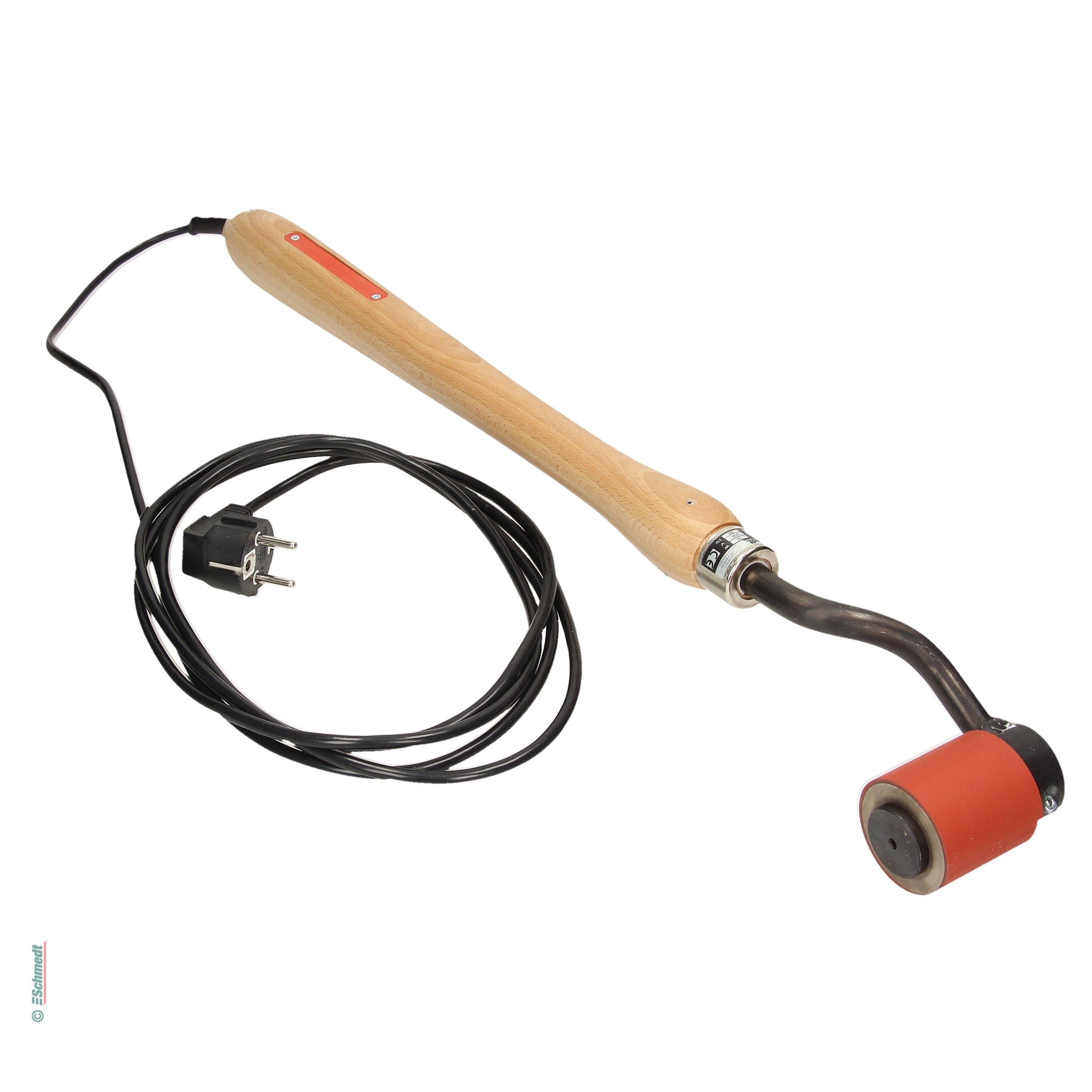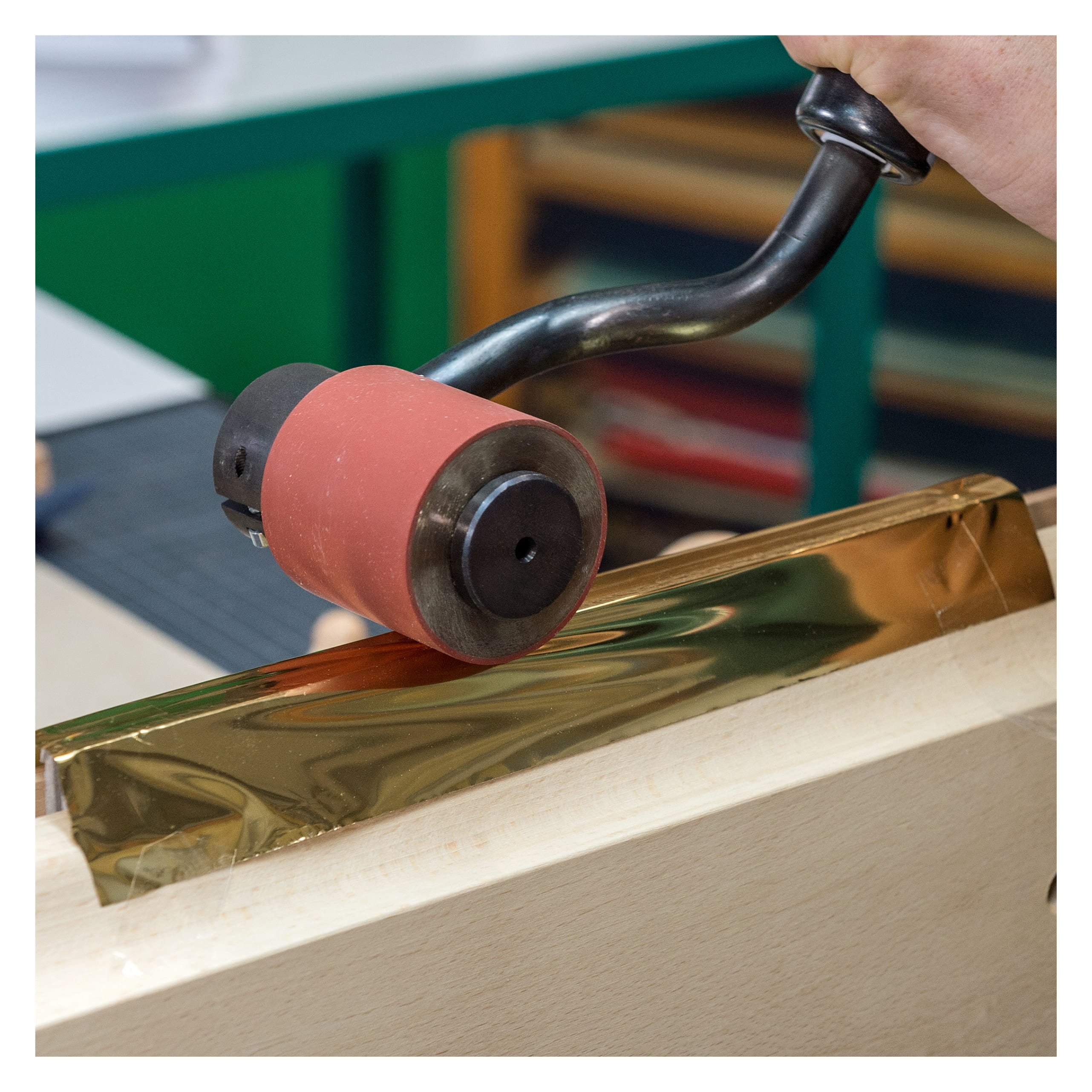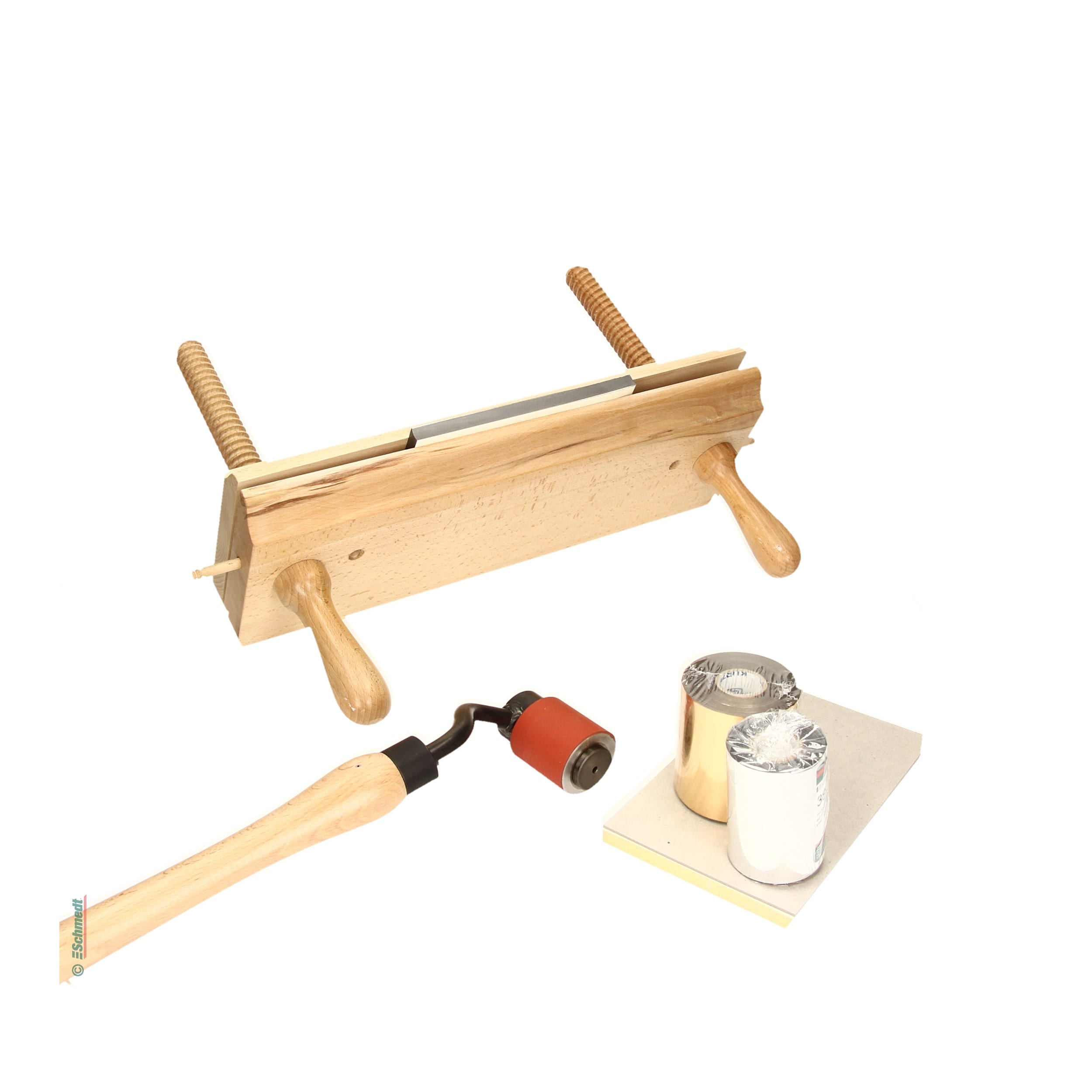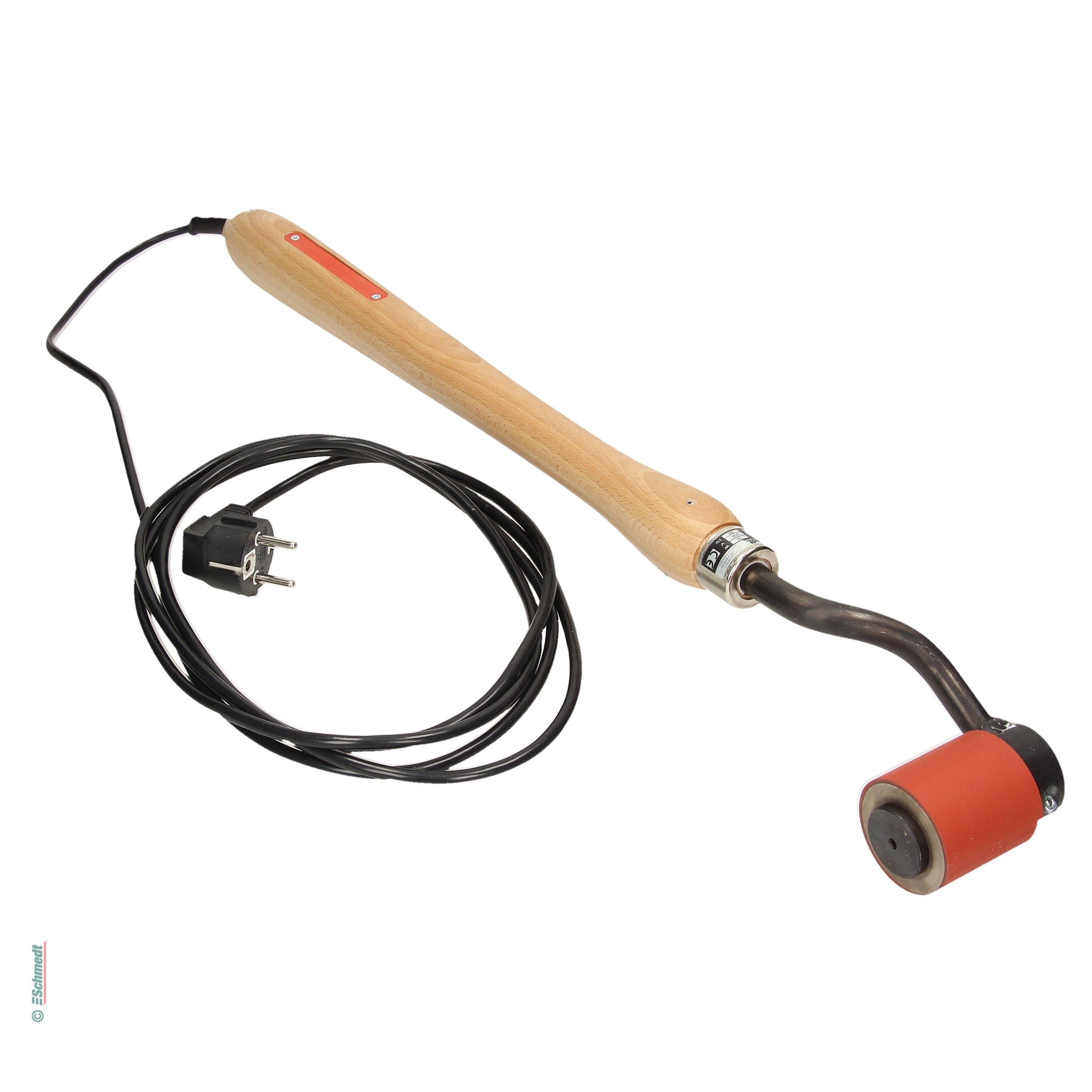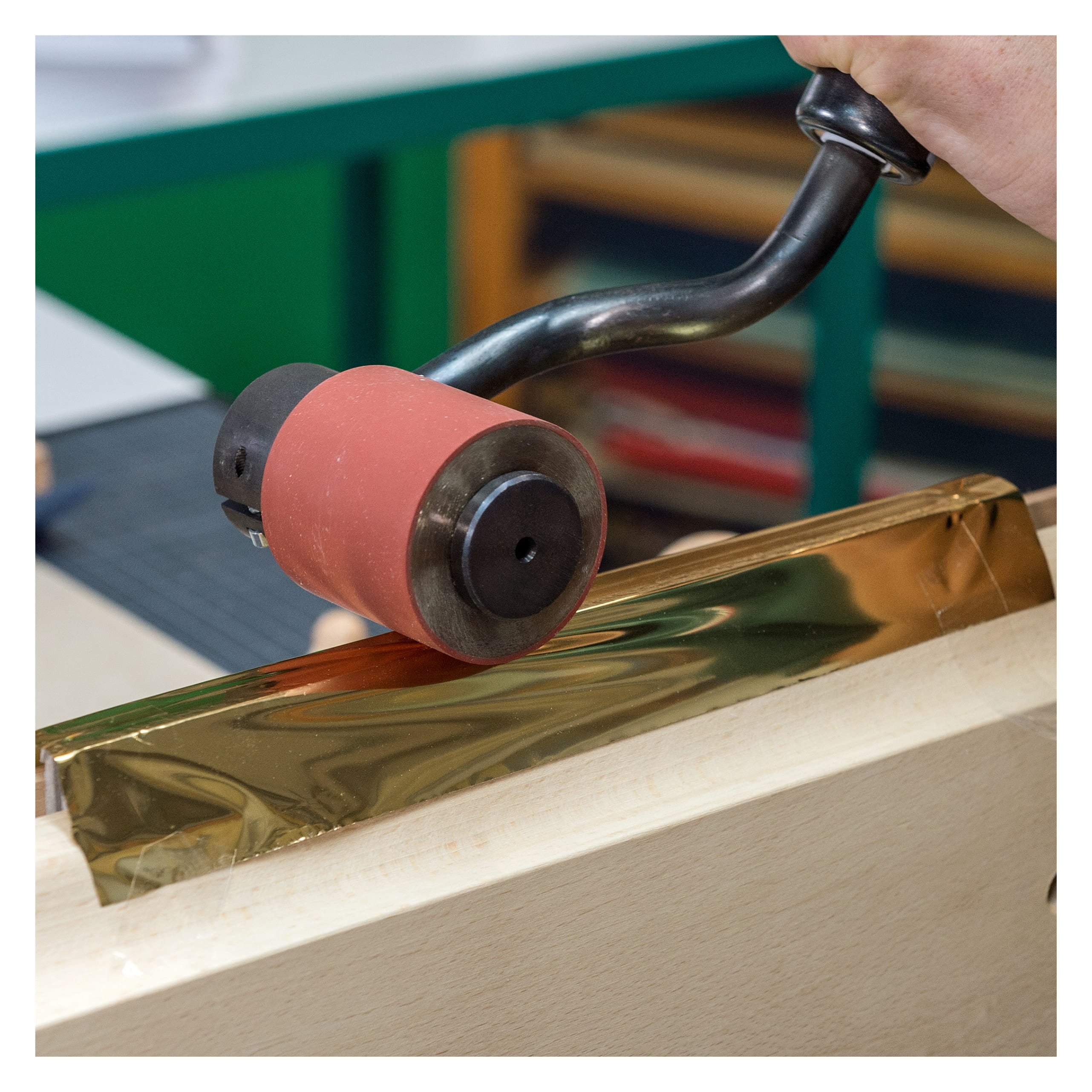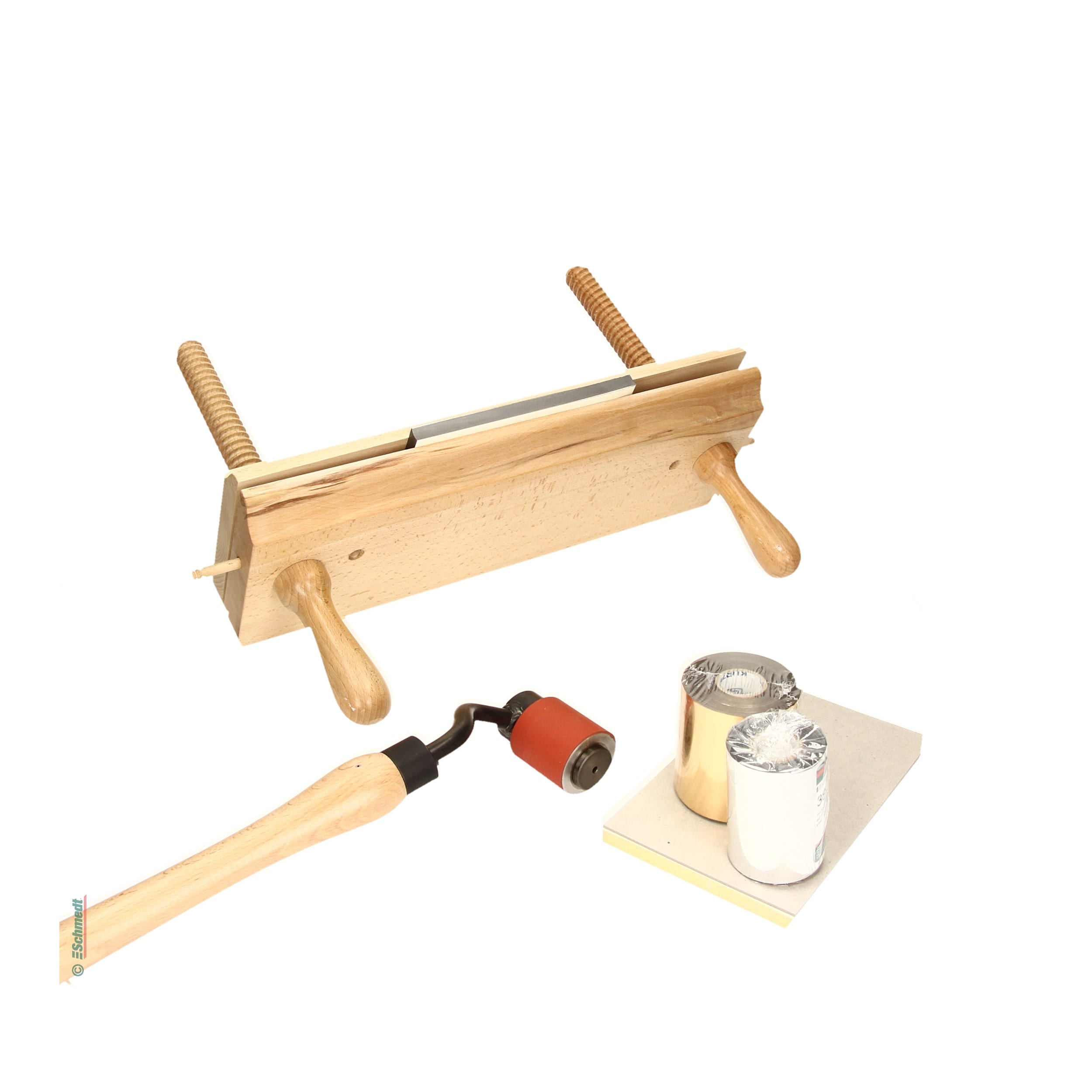 In stock, deliverable at short notice
Gross total incl.
19% VAT:
Item number:
6050-050
Power supply: 230 V / 50 - 60 Hz (AC)
Product information "Edge gilding roll, electrically heated"
If you want to gild book cuts, there is an alternative to gilding with gold leaf: gilding with the edge gilding roller and a book cut foil, which is applied by heat. The edge gilding roller is a device that greatly simplifies the process of gilding book edges. With the help of a heated roller, pressure and the use of thermally reactive foil, the normally white edges of a book can be finished. When the foil is rolled on with the edge gilding roller, heat and pressure cause the foil to detach from the substrate and be transferred to the book cut. This creates mirror-like, shiny gold or silver cuts. Not only book blocks, but also business cards and other products made of paper and cardboard can thus be easily and neatly gilded.
Important: It is mandatory to use an external thermostat. You do not need to buy ours if you already have one (for example, from a PräGnant).
Connecting the edge gilding roller
The edge gilding roller is equipped with an electric heater and must be operated with an external thermostat controller, otherwise the unit will overheat. Overheating will cause the silicone coating to detach from the roller. We build our own thermostat controller, which is equipped with a rotary knob and scale. This thermostat can be ordered below (110V version includes an adapter for the United States / Canada).
Generally, the safest way to avoid damaging the roll is to heat it slowly to the desired level (usually around 6-7), as described in the instructions. This may take some time. But in any case, after each change of setting, you need to wait at least 10 minutes until the roller has heated up to the new temperature.
The thermostat must never be turned up fully - even for faster heating - because the heat is generated inside the core and is only passed on to the outside with a delay. If you have found the optimum setting, note this value for future instructions so that it does not have to be determined again at great expense.
Care and storage
Under no circumstances should contamination of the rubber coating be removed with a sharp or pointed object, as damage to the smooth surface will inevitably result in poor gilding quality.
Lubrication of the bearing surfaces is not necessary and should also be omitted in the interest of cleanliness. During storage, care should be taken to ensure that the roller does not rest on the rubber coating for any length of time, as this can lead to deformation of the surface.
Properties of "Edge gilding roll, electrically heated"
Dimensions
Width (in mm):

50

Other properties
Category:

Edge gilding tools

Minimum order quantity:

as of 1 piece

NB:

An external thermostat is mandatory for operation!
https://www.schmedt.de/ww2000/pdf/e-manual_edge-gilding_with_foil_roll.pdf
https://www.youtube.com/watch?v=zIOdXC6zys8
https://www.schmedt.de/ww2000/pdf/e-edge_gilding_roll_heated.pdf
---
The greatest heated roller in the market
The hot roller for gilding book edges from Schmedt is a fantastic tool for bookbinders looking to add an extra touch of elegance and professionalism to their work. This tool is specifically designed to apply a thin layer of gold foil to the edges of book pages, creating a stunning gilded effect that adds both beauty and durability to the finished product. What I love most about the Schmedt hot roller is its ease of use. With its adjustable temperature control and quick heat-up time, it's incredibly simple to get started gilding edges right out of the box. Its compact size and lightweight design make it easy to handle and maneuver, even on larger projects. Plus, the high-quality materials and construction ensure that it will last for years to come. Overall, I highly recommend the Schmedt hot roller for anyone looking to elevate their bookbinding game. It's an investment that will pay off in both the quality of your finished products and the level of professionalism you bring to your craft. Whether you're a seasoned bookbinder or just starting out, this tool is an essential addition to your toolkit. Timothy from Vietnam
Below you can see questions that other customers have asked about this product. Do you have a question of your own? Then feel free to ask us using the button below. You decide whether your question may be published.
Where is this made? Where does it ship from? What is the cost in U.S. dollars
We produce the edge gilding roller ourselves, in Germany and also ship from Germany. Euro and USD are pretty much 1:1 today, so you can take the shown price and think of it as USD. You can calculate shipping costs for the US in the cart.
Is this compatible with electric power in the United States?
Please make sure to order the 110V version, as only that one is suitable for the US power grid. Please also make sure to order a thermostat (see accessories below on the page), unless you have one that is suitable / can buy one locally in the US. Our 110V thermostat comes with an adapter for the USA (also see photo). It goes wall plug > adapter > thermostat > edge gilding roll.
Can one extend the range of the Gilding Tool using an extension cord?
Yes, this is not a problem. Configuration will need to be: Wall socket > Extension cord > Adapter (in case you are not using a German plug) > Thermostat > Gilding Tool
Is the Gilding Tool to be plugged into the Thermostat socket for continuous use?
Yes, you will need to keep the gilding tool plugged into the thermostat to continuously heat the roller (to keep the temperature stable).
It is normal that the roller takes 1 hour to heat up to a temperature of 160º, and thus to be able to work optimally? I consider this to be a long time.
Basically, the safest way to avoid damaging the roll is to heat it slowly to the desired level (usually around 6-7), as described in the instructions. This may take some time (maybe even an hour).

It is also possible to set the thermostat to maximum for heating. However, there is a risk that the core of the roll gets too hot (it should never be heated above 200 °C, otherwise the rubber will start to break down), so we do not recommend this procedure. If you do this, the temperature must be constantly monitored to avoid overheating.
Does the thermostat have to be switched off when the roller has reached the target temperature?
The temperature setting should be maintained during the work (at about 6-7) so that the roller is kept at the temperature of about 160°C. You do not have to turn the thermostat off.
What kind of sand paper should I use?
Hi.
You can use sandpaper with a grain size of 200/600/1200/2000. For more helpful tips, feel free to check out our tutorial: https://schmedt.com/guides-tutorials/edge-gilding-with-edge-gilding-roll
Can I also use real gold foil on my books?
In general, you can try with any kind of heat-activated foil (hot-stamping foil) that you normally use to emboss titles on leather. Real gold foil usually sticks better than regular (aluminum-based) foil.
When do I need to use the edge gilding primer?
You should use our primer (in combination with heat-sensitive foil) if you have difficulties getting it to hold without the primer (first use always without primer). The primer normally is applied with a cotton cloth (not a brush). It should be carefully applied to not apply too much, because the pages could stick together if you use too much.

As a side note: Primer for hand gilding (pure real gold, not a heat-sensitive foil) is not suitable for use with heat-sensitive (hot-stamping) foil, because the foil has heat-sensitive adhesive included, which is not compatible with that kind of primer.
How much pressure do I need to apply with the roller?
This really depends on the foil used and the surface that you want to apply the foil to.

In the past, our foil that we sold required quite a lot of force to apply. Since December 2021, our edge gilding foil is much easier to apply.

If you are not using our old foil (or other foil such as hot stamping foil), a high amount of pressure may be required to make the foil stick. Therefore, you might have to place the edge gilding roll in your shoulder and really apply high pressure. Try to roll over repeatedly from different angles (e.g. flat, slight left angle, slight right angle). Once you think you are and feel like the book has been covered, carefully lift the foil and if you see it has not applied everywhere put it down and fix it to the same position to go over the parts that did not hold with the gilding roll again (if you were to use new foil, this would result in two layers of foil in some parts, which are visible in the end).
What is the ideal temperature?
For the foil, you can go up to ~160°C without burning the foil, you do not have to worry about that. However, be careful to slowly heat up the roller, as it might get damaged otherwise. If you are using our thermostat, heat up with setting 6-6,5 and if you want to be really sure, wait for at least 30 minutes to ensure an even heat application.
Guide: Edge gilding with the edge gilding roller
In our tutorial we show how to gild the edges of a book block in only 5 steps. You can follow step by step how to create gilt edges with the help of the edge gilding roller.