Filmoplast P | transparent
self-adhesive special paper - 20 gsm
Roll length (in m): 50 | Version: Roll | Width (in mm): 10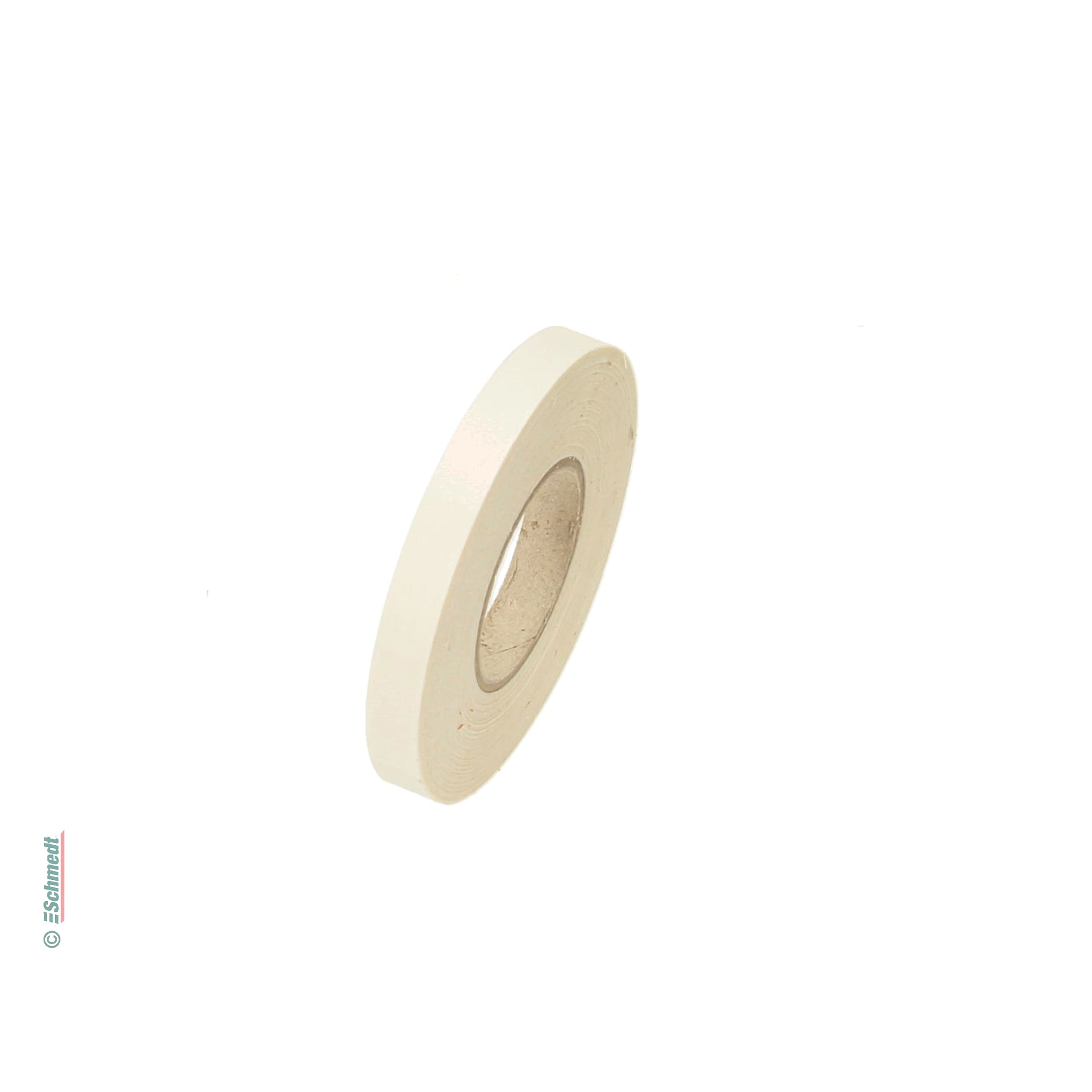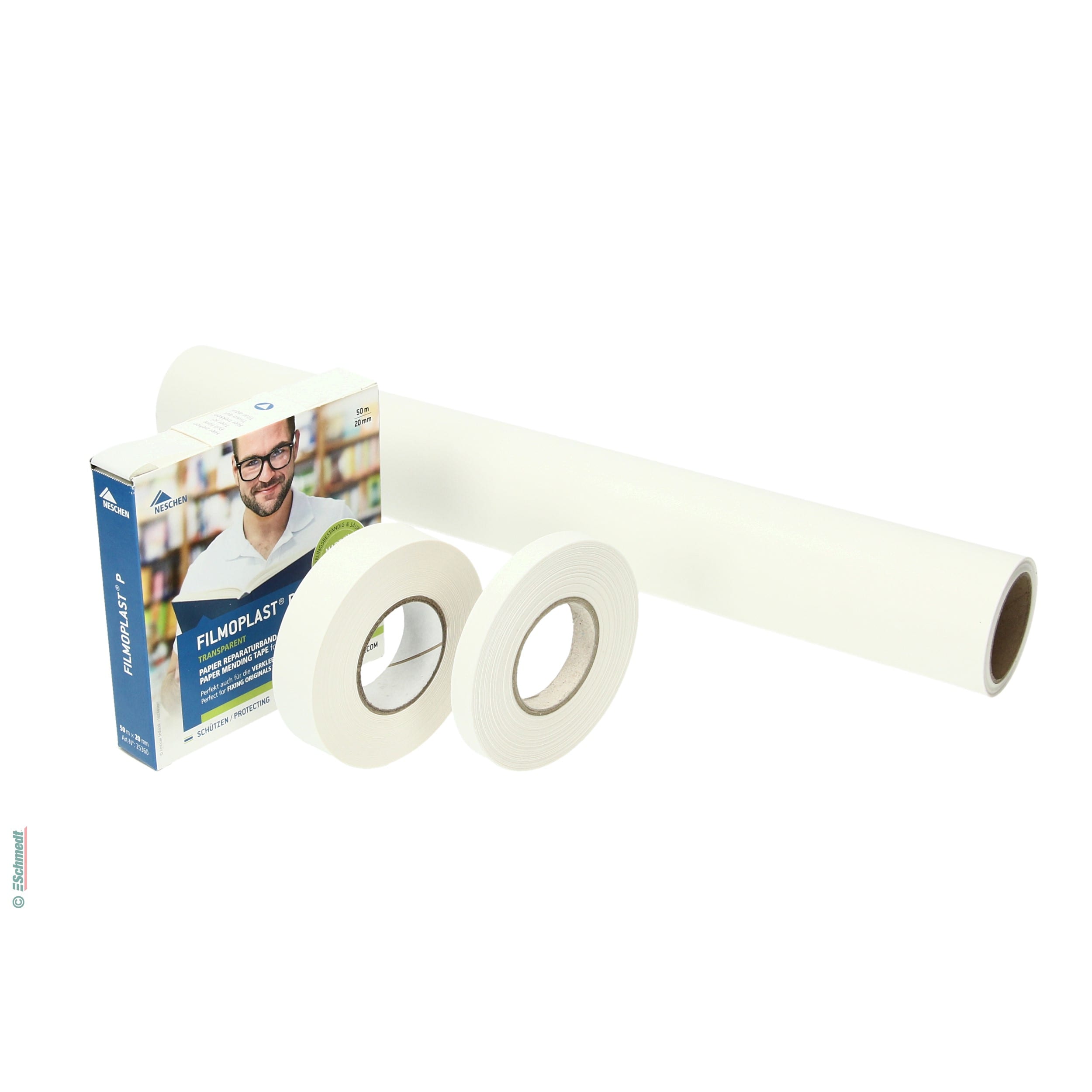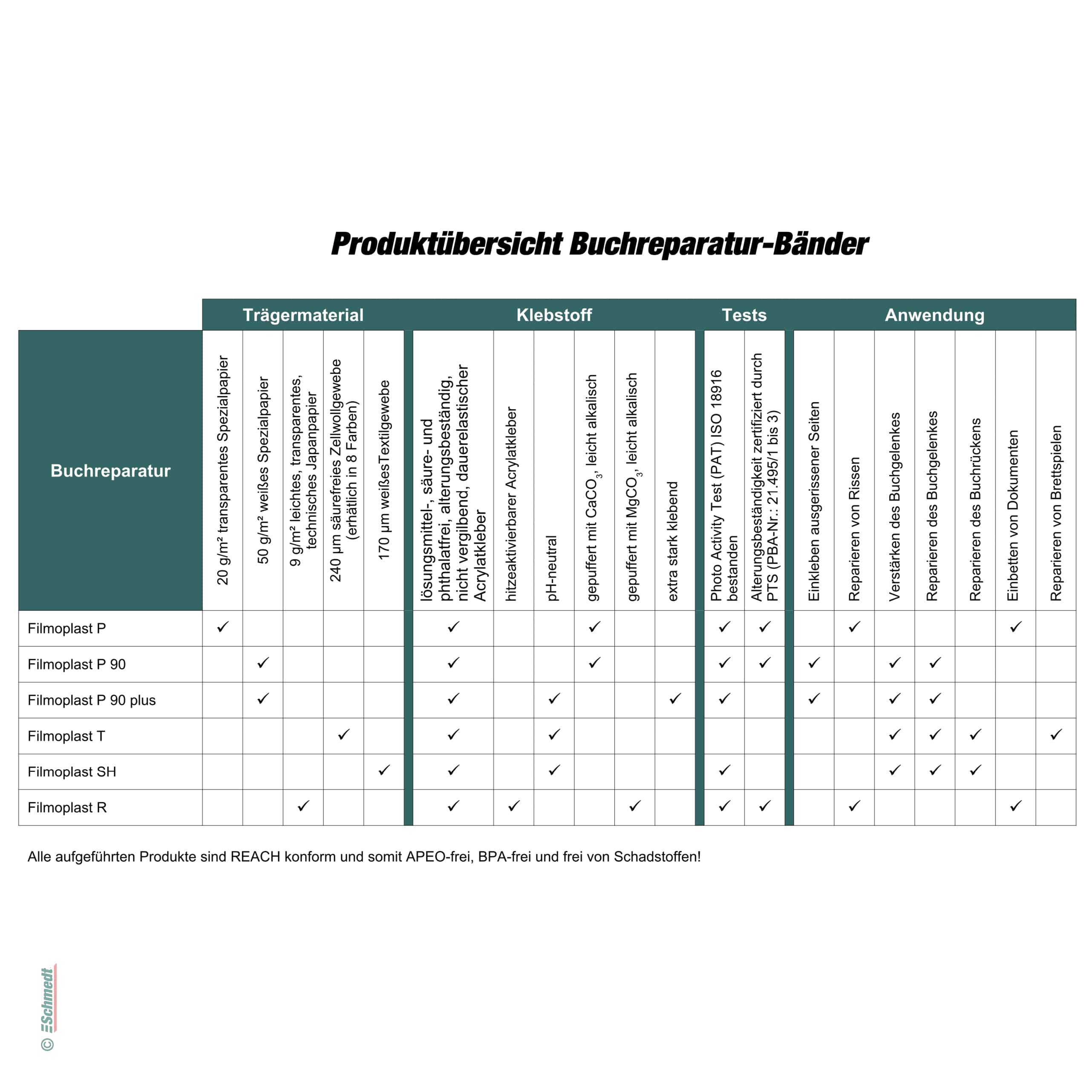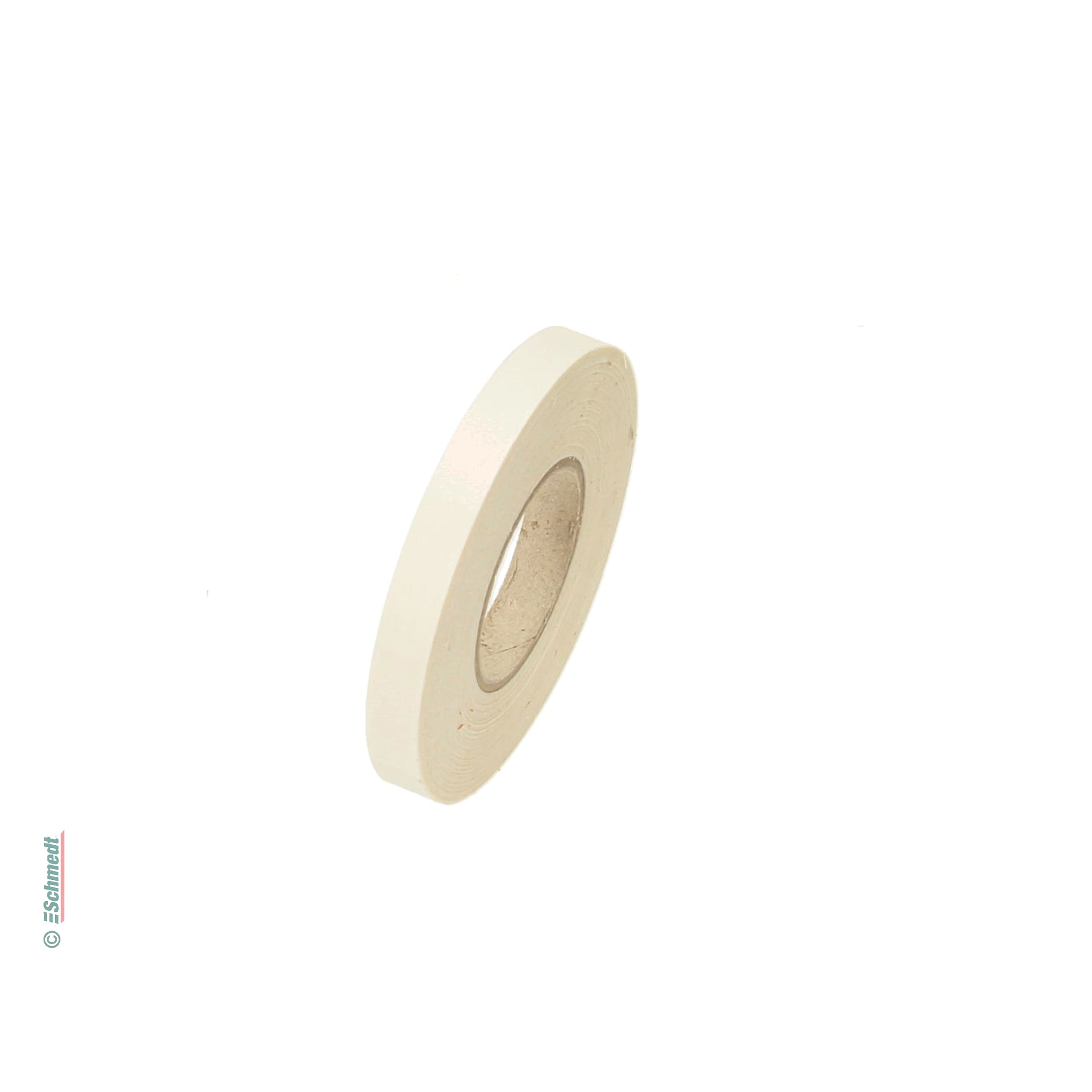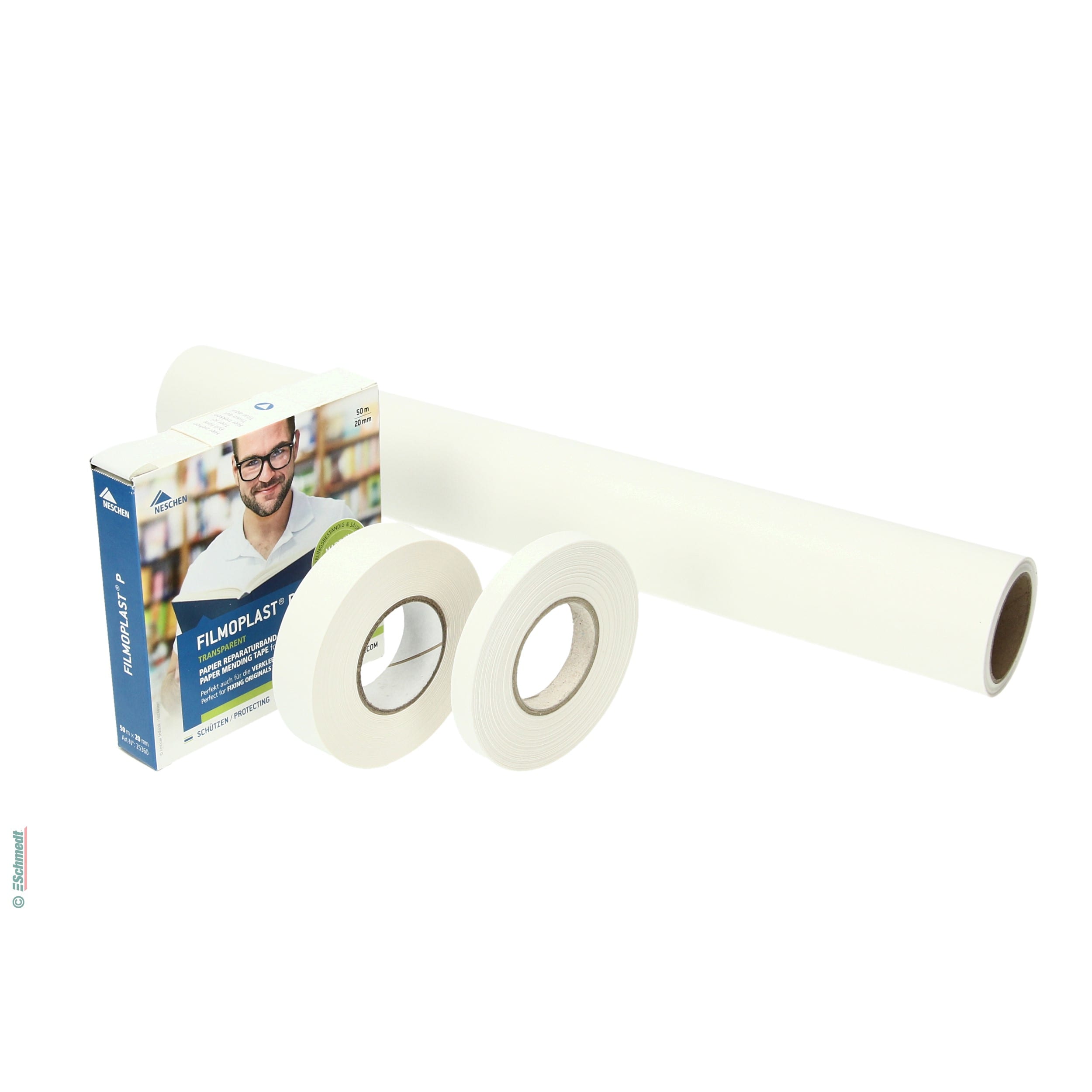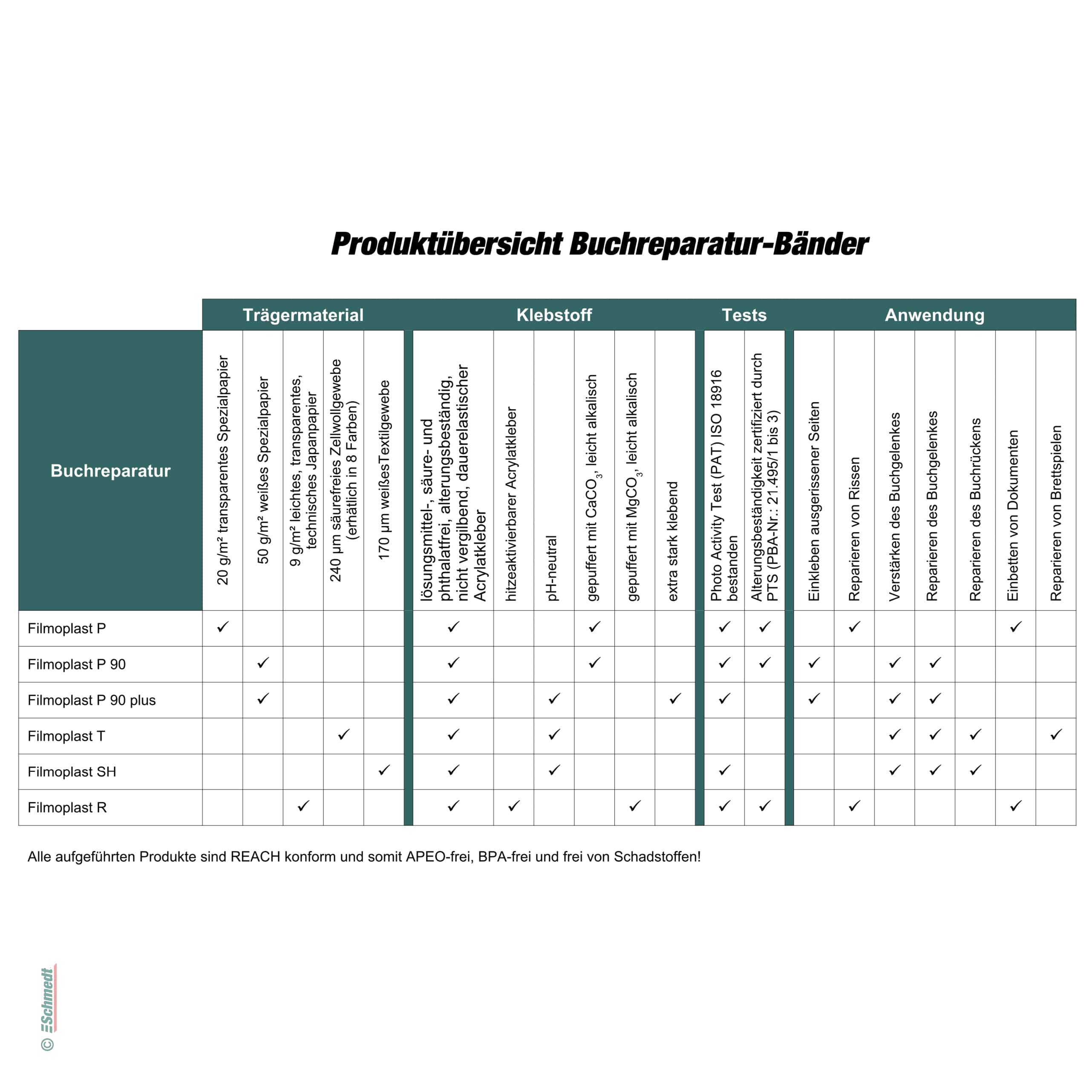 In stock, deliverable at short notice
Gross total incl.
19% VAT:
Item number:
3202-010
Roll length (in m): 50

Version: Roll

Width (in mm): 10
Product information "Filmoplast P | transparent"
Wafer-thin special paper, coated with non-ageing, non-yellowing, permanently elastic acrylic adhesive, buffered with CaCO3.
Certification : P.A.T. passed according to ISO 18916
Application: Repair, protection and embedding of papers, attaching and joining torn pages, reattaching torn out pages, repairing torn pages, fixing thinner papers to passe-partouts
Properties of "Filmoplast P | transparent"
Dimensions
Core Ø (in mm):

40

Format:

on rolls

Thickness in mm:

0,023

Colour
Colour:

transparent

Surface & Texture
Surface:

one side self-adhesive

, satin

Adhesive properties
Adhesion:

10 min. > 5,0 N/25 mm

Adhesive:

polyacrylate dispersion

Technical details
Buffered:

Alkaline buffer

Material
Buffered:

Alkaline buffer

Grammage:

20 gsm

Material:

Special paper

pH value:

8,5

Other properties
Category:

Collection and exhibition supplies

, Filmoplast

, Repair and mounting tapes

, Restoration

Certification:

P.A.T. passed according to ISO 18916

Ecological features:

non-ageing

, permanently elastic

, wood-free

Minimum order quantity:

as of 1 roll

Sales unit:

10 rolls
https://www.schmedt.de/ww2000/pdf/d-pi_buchreparaturbaender_filmoplast.pdf
https://www.schmedt.de/ww2000/pdf/d-td_filmoplast_p.pdf
Authenticity of customer reviews
Each review is checked for authenticity before it is published, ensuring that reviews only come from consumers who have actually purchased/used the reviewed products. Since Feb 01 2022, we have been using the features of our store system to collect product reviews. Each rating is manually checked by us before publication and only released after successful verification that the customer has actually purchased the product (comparison of the rating with the order history in our merchandise management system). Until Jan 31 2022, we collected product ratings via the external provider Trusted Shops. Here, individualized links were transmitted to the respective consumer after completion of an online order, which led to an online rating form and ensured that access to the rating function was only granted to consumers who actually purchased the product.
---
Ich benutze Filmoplast seit Jahrzehnten. Das würde ich nicht, wenn ich nicht damit sehr zufrieden wäre.
Ein Produkt, was sonst nur schwer zu bekommen ist, wurde schnell und zu einem guten Preis geliefert. Danke dafür!
Aus guter Erfahrung wieder gekauft
Bewährte Qualität! Wir bestellen seit Jahren für die Schule bei Schmedt.
es besteht keine Veranlassung einen weiteren Kommentar abzugeben
Below you can see questions that other customers have asked about this product. Do you have a question of your own? Then feel free to ask us using the button below. You decide whether your question may be published.