Japanese paper Bib Tengujo
non-ageing - Weight: 12 gsm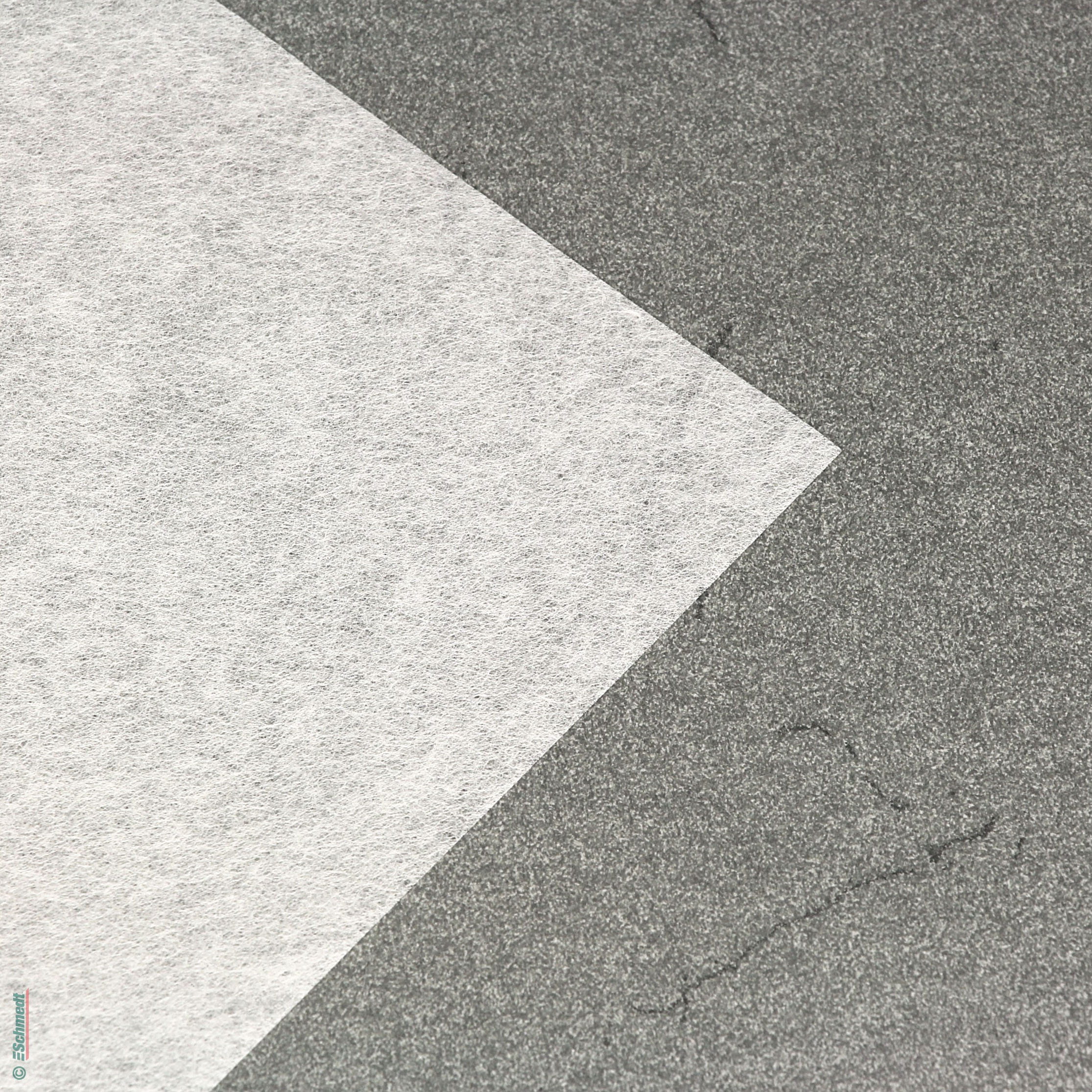 The color in the photo may differ from the actual color. If available, you will find a link to our sample card for this material further down this page.
€0.95 *
Net price
/ 1 sheet
(

€95.00

* / 100 sheets)
In stock, deliverable at short notice
Quantity
Price / 100 sheets
Gross total incl.
19% VAT:
Product information "Japanese paper Bib Tengujo"
These Japanese papers are very fine, extremely thin, have enormous strength and toughness (in relation to their weight). They are porous yet moisture-resistant, have long, soft fibres. The upper side of the paper is smooth, the screen side rough.
Material : 100 % Manila
Format : 48 x 75 cm
Grain : long grain
Colour : white
Ecological features : acid-free
Application: The loose, long-fibred structure (uniform in all directions) is suitable for inconspicuous and tension-free (area and partial) reinforcement of damaged objects.
Properties of "Japanese paper Bib Tengujo"
Dimensions
Format:

48 x 75 cm

Colour
Colour:

white

Surface & Texture
Grain:

long grain

Surface:

matt

Texture:

smooth

Technical details
Type:

machine-made

Material
Grammage:

12 gsm

Material:

100 % Manila

pH value:

7,1

Other properties
Category:

Japanese papers

, Restoration

Ecological features:

acid-free

, non-ageing

, unbuffered

Minimum order quantity:

as of 1 sheet

Sales unit (sheets):

500
---
wie erwartet weich und schön
Below you can see questions that other customers have asked about this product. Do you have a question of your own? Then feel free to ask us using the button below. You decide whether your question may be published.
Was ist der Unterschied zwischen Japan- Seidenpapier und Japanpapier ? Das Produkt Tengujo gibt es in beiden Varianten und ich frage mich was der Unterschied im spezifischen Fall ist und im Allgemeinen zwischen den beiden Papierarten?
Ich habe Ihre Frage an unseren Experten für Restaurierung weitergeleitet, daher hat die Antwort ein wenig gedauert. Im Folgenden seine Erläuterung zu den Unterschieden, die glaube ich ein sehr gutes Bild gibt. Das fehlende Seidenpapier im Namen von Bib. Tengujo ist am Ende nur eine Bezeichnungs-Thematik und hat keine Relevanz.

Das Japanpapier Bib. Tengujo Art.Nr.: 11451003 (12g/m2) ist pH neutral = 7.0, ist ungepuffert, wasserempfindlich und saugfähig, dennoch gut im nassen Zustand zu handhaben. Die lockere langfaserige Struktur (gleichmäßig in alle Richtungen) eignet sich für unauffällige und spannungsfreie (flächige und partielle) Verstärkungen beschädigter Objekte. Es handelt sich um ein 100% Abaca (Musa textilis) Manilahanfprodukt. Manila Fasern sind kürzer als Kozu-Fasern (daher auch nicht ganz so reißfest), jedoch erheblich preiswerter als Kozu, Gampi- oder Mitsumatapapiere.

Japan-Seidenpapier Tengujo Art.Nr.: 11451001 (17g/m2) ebenso aus 100% Manilafasern, pH=6,7, ist ungepuffert, faserig in einer Richtung, daher erzeugt es richtungsbedingte, differenzierte Dehnung oder Spannung. Relativ wasserunempfindlich und sehr gut zu handhaben auch im nassen Zustand oder mit Kleisterauftrag. Gut geeignet für Dublierung oder Verstärkung von Objekten.
Order sample card for Japanese paper Bib Tengujo
We know how important it is to see and feel materials live - that's why we offer samples for most of our materials already pre-made on sample cards. On these sample cards you will find all textures and shades for the respective material. Just click on the banner below to go directly to the respective sample card.