Maroquin - leather vaseline
Tin / 90 g - acid-free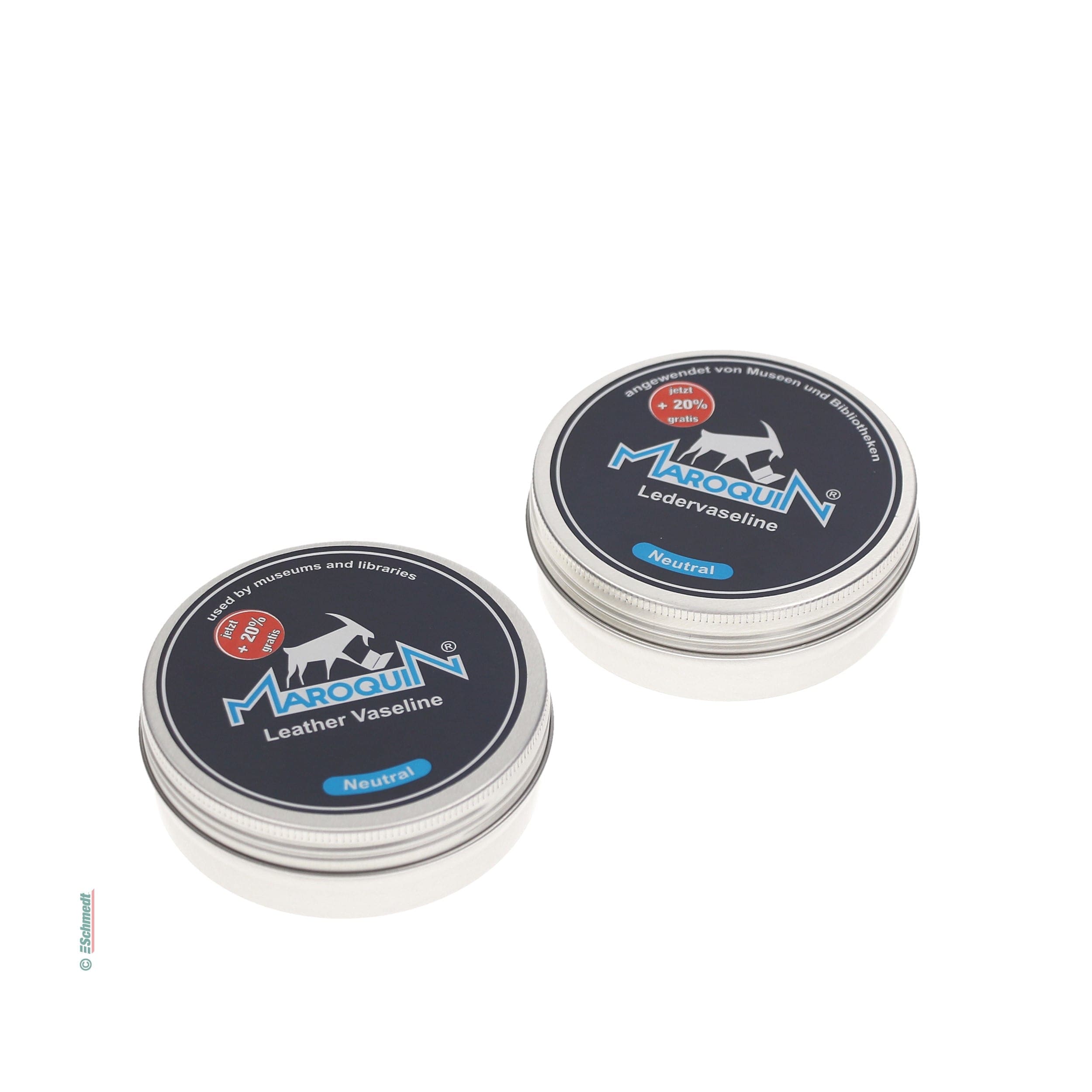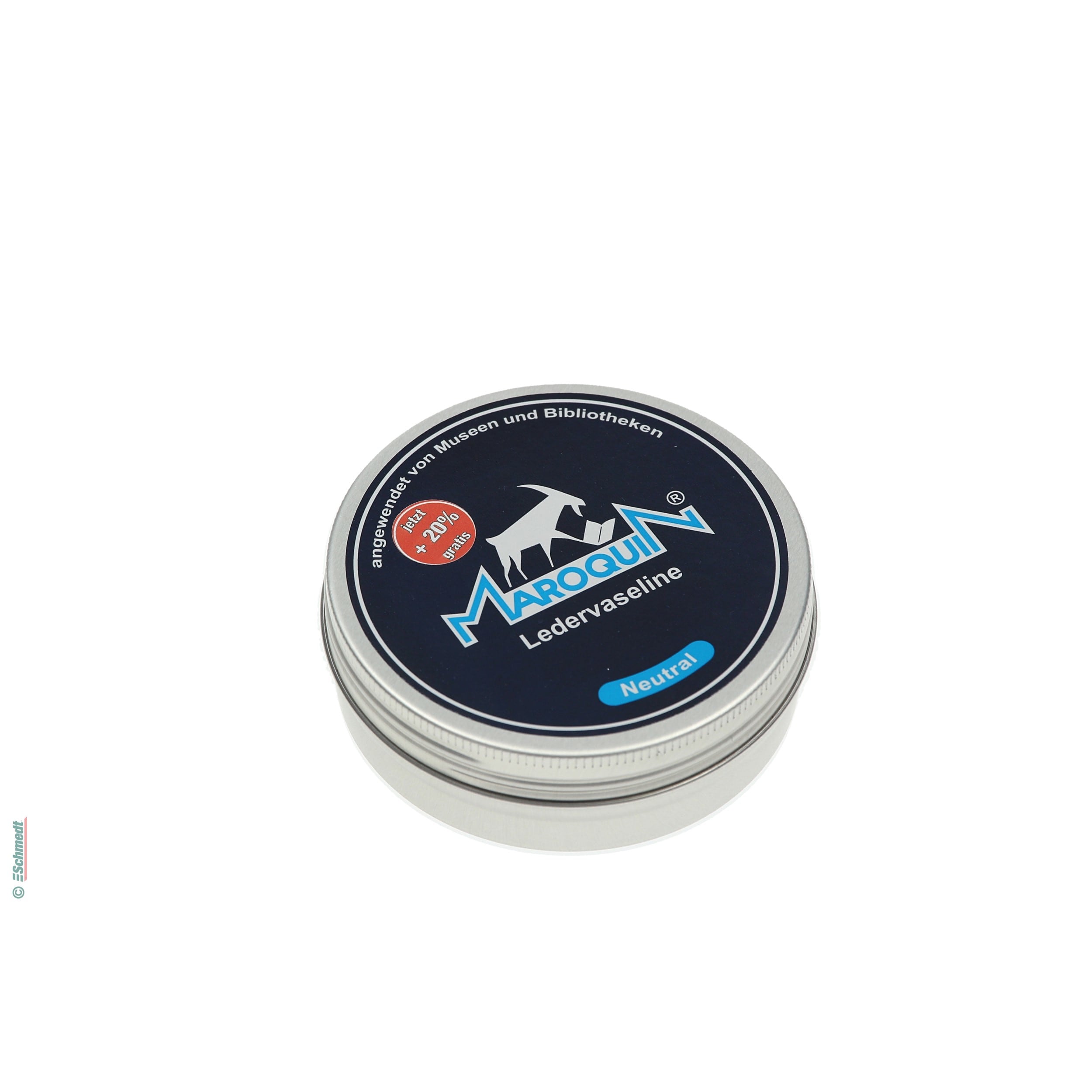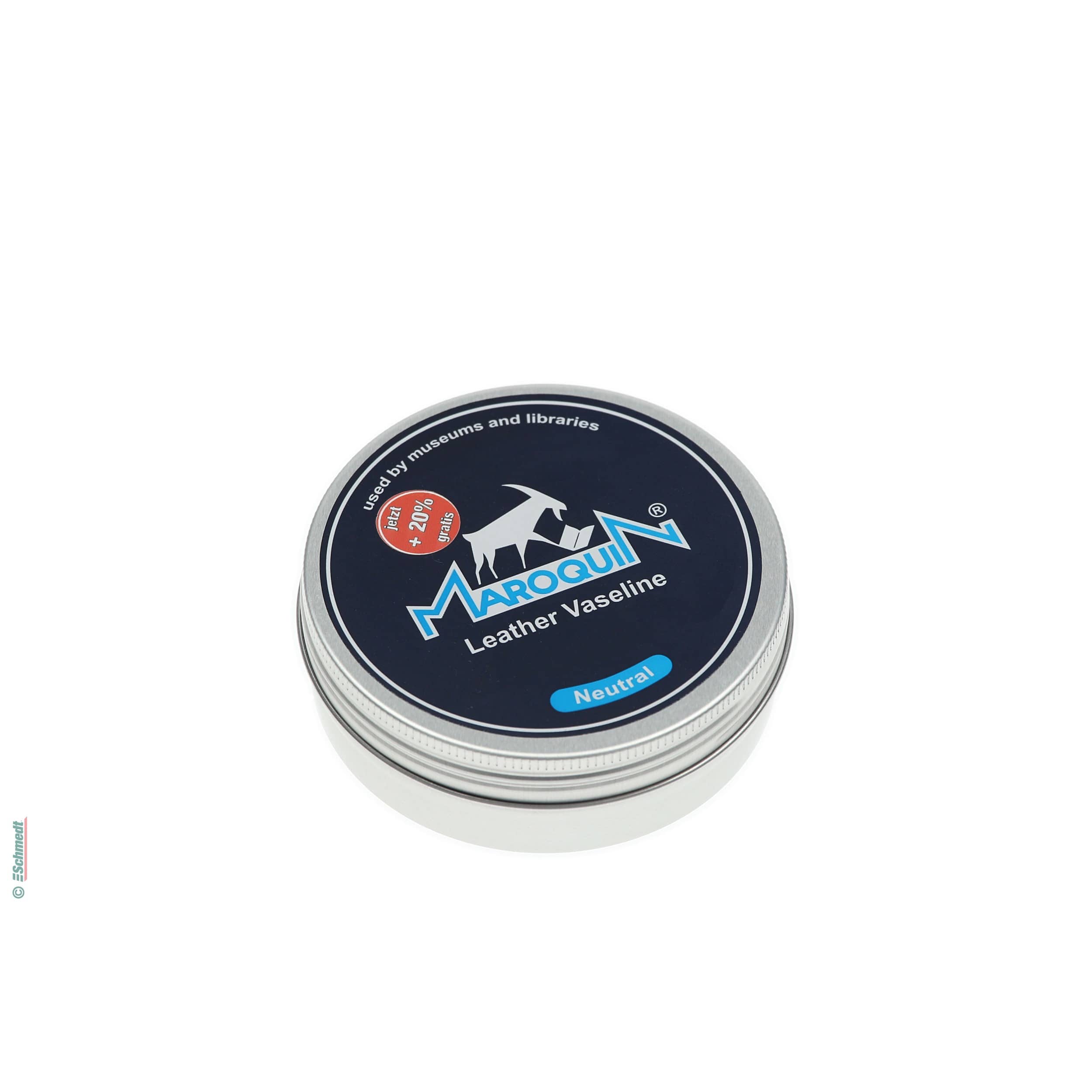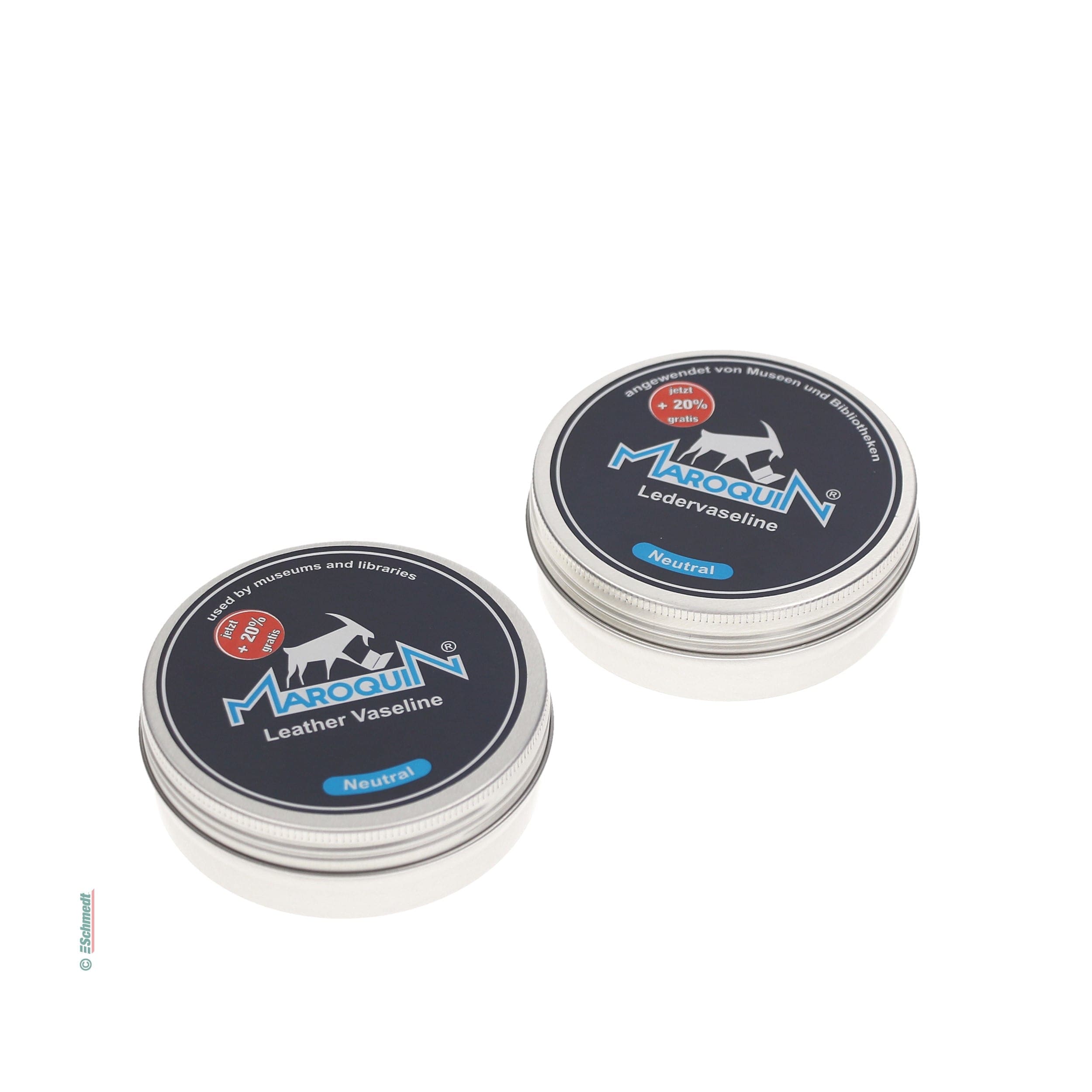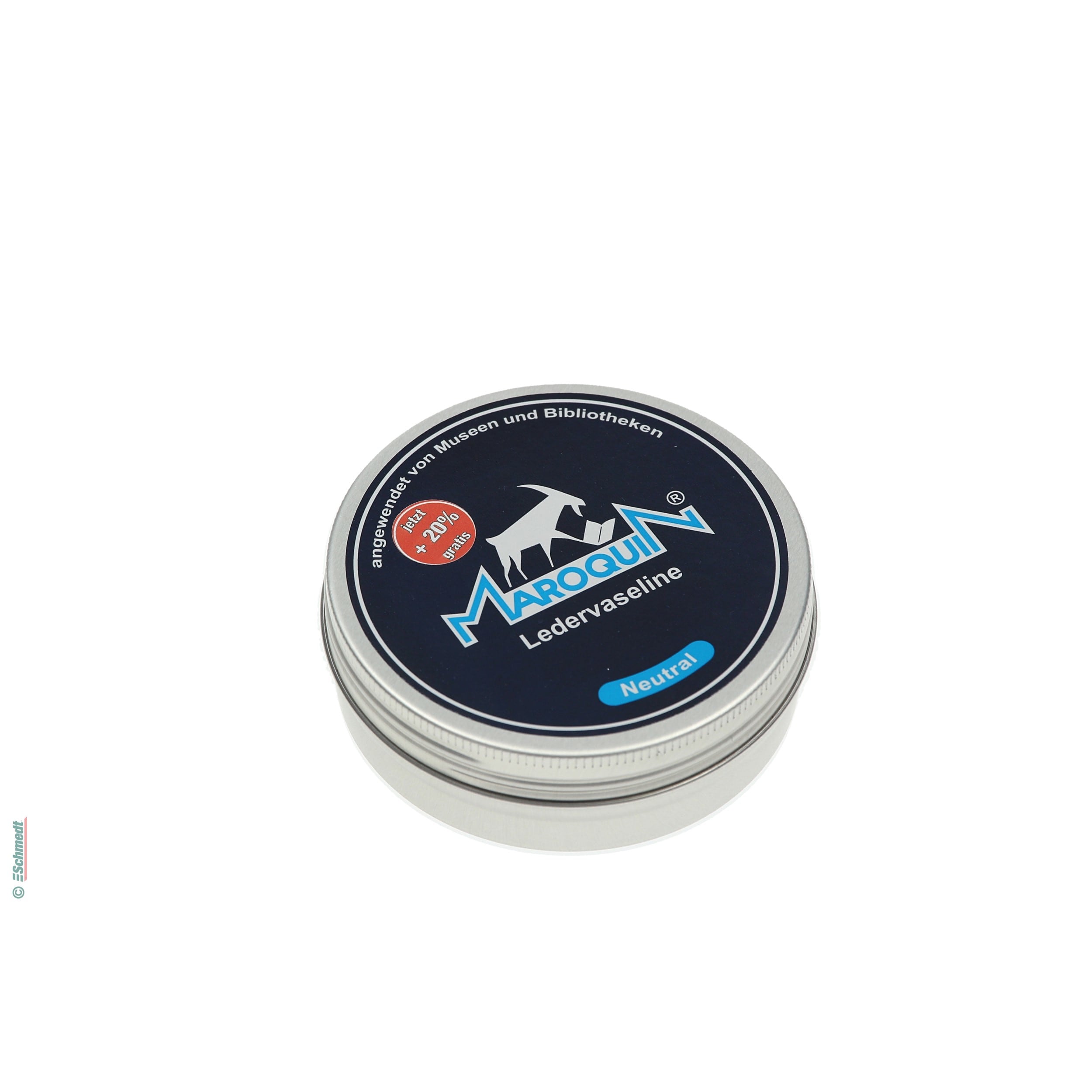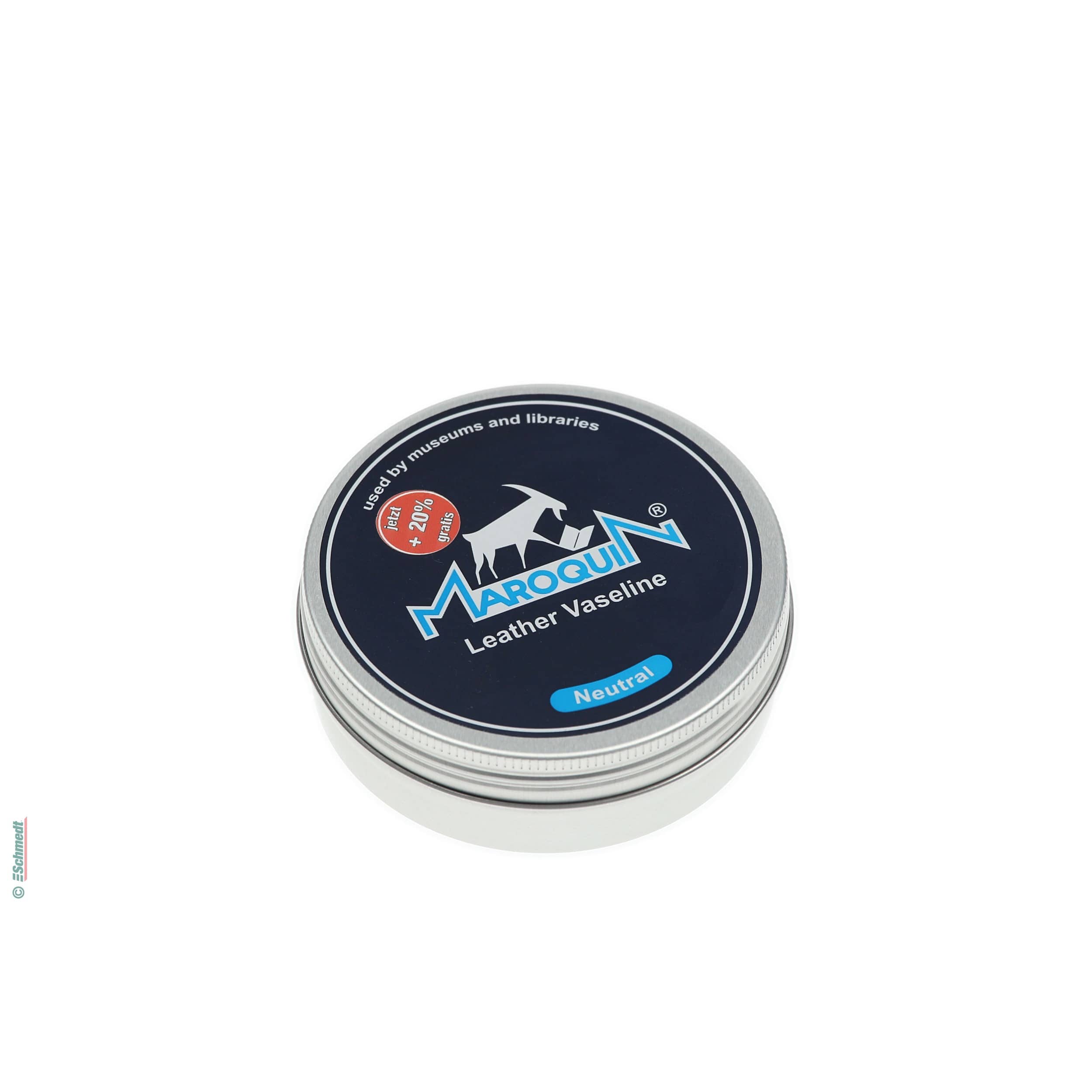 In stock, deliverable at short notice
Gross total incl.
19% VAT:
Product information "Maroquin - leather vaseline"
Gentle care product for leather and for smoothing the edges of chamfers in leather restoration.
Dried out leather becomes elastic again and gets a fresh appearance.
Gildings are not affected, but are emphasized.
Application: to preserve cleaned leather and parchment
Properties of "Maroquin - leather vaseline"
Dimensions
Contents:

Tin / 90 g

Colour
Colour:

white

Other properties
Category:

Leather preservatives

, Maroquin Leather Care

, Preservation and prevention

, Restoration

Ecological features:

acid-free

Minimum order quantity:

as of 1 tin
https://www.schmedt.de/ww2000/pdf/e-sd_maroquin_leather_vaseline.pdf
Authenticity of customer reviews
Each review is checked for authenticity before it is published, ensuring that reviews only come from consumers who have actually purchased/used the reviewed products. Since Feb 01 2022, we have been using the features of our store system to collect product reviews. Each rating is manually checked by us before publication and only released after successful verification that the customer has actually purchased the product (comparison of the rating with the order history in our merchandise management system). Until Jan 31 2022, we collected product ratings via the external provider Trusted Shops. Here, individualized links were transmitted to the respective consumer after completion of an online order, which led to an online rating form and ensured that access to the rating function was only granted to consumers who actually purchased the product.
---
Macht das Leder schön geschmeidig - auch völlig ausgetrocknete Rücken bekommen wieder ihren ursprünglichen Lederglanz.
Top Qualität und erstklassige Ware
wir verwenden dieses Produkt zur Buchpflege und sind seit Jahren damit zufrieden
Ich kann diesen Artikel weiterempfehlen. Für die Lederpflege (besonders für wertvolle Bücher) gibt es kein besseres Mittel.
Below you can see questions that other customers have asked about this product. Do you have a question of your own? Then feel free to ask us using the button below. You decide whether your question may be published.
Sind Maroquin Lederbalsam und Ledervaseline separat einzusetzen oder sind sie miteinander kompatibel? Wann ist welches Produkt zu verwenden?
Grundsätzlich werden die beiden Produkte Lederbalsam und Ledervaseline für unterschiedliche Anwendungsfälle genutzt. Der Lederbalsam ist ein Reinigungsbalsam zum Öffnen der Poren und Reinigen des Leders (ähnlich wie ein Seifenschaum) bei Verunreinigungen der Oberfläche. Die Ledervaseline wird zur regelmäßigen Pflege (und Vorbeugung von Austrocknung) des Leders genutzt. Sie macht das Leder wieder geschmeidig und auch ausgetrocknete Leder bekommen wieder ihren Glanz.
I have bought Maroquin products (vaseline & leather balm) in 2005. Are they still okay to use?
With vaseline, you don't have to worry about shelf life. As long as the consistency is creamy, you can use it without hesitation. With leather balm, this is only true to a limited extent. When the balsam begins to break down (the emulsion no longer looks milky but forms grains or turns brown), we no longer recommend its use on high-quality bindings. The active ingredients against fungal attack are then no longer active enough. If the balm starts to smell rancid, you should discard it.